creativeRAW Forum Guide
creativeRAW Forum Guide
Welcome to the creativeRAW Discussion Forums!
This is a place where we can all connect and learn from our unique perspectives…and encourage interesting, authentic conversations about photography in a supportive environment.
I believe the creativeRAW community is one of the most talented and friendly groups of photographers, so I wanted to create this place where we can all connect away from the restrictions and distractions of Facebook. I'll also be very active in the forum myself.
The content and activities will evolve as the group grows and settles down into a flow, so feel free to offer suggestions and feedback.
Accessing the Forum
To access the creativeRAW forum, you'll need to log into your account and visit the Dashboard. All members of creativeRAW have access to the private forum.
Not a member yet? Sign up for my free Foundations course, which will set you up with your own account and forum access.
On your Dashboard menu, click the "Forum" link to access the forum.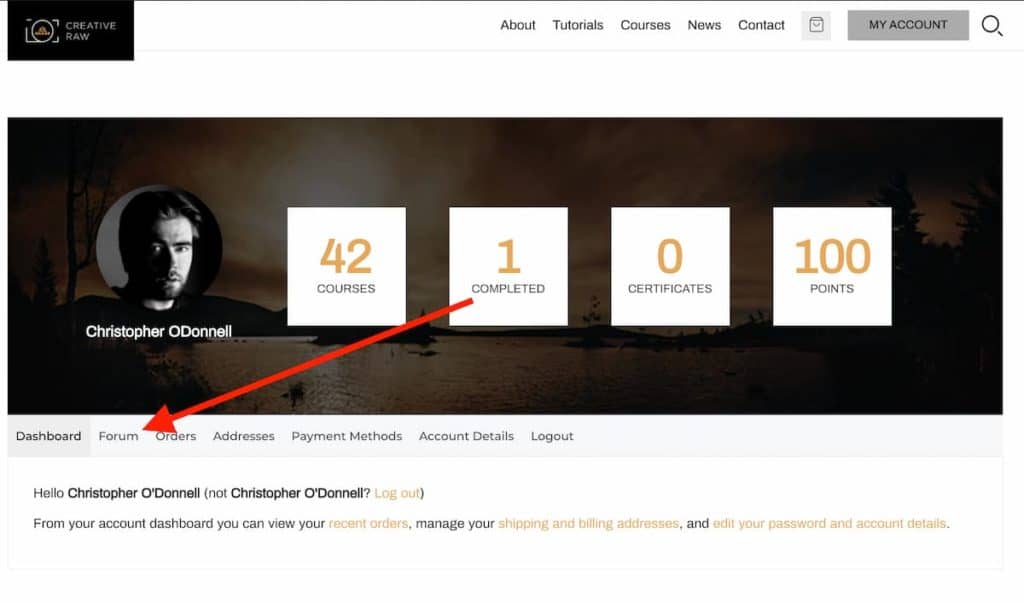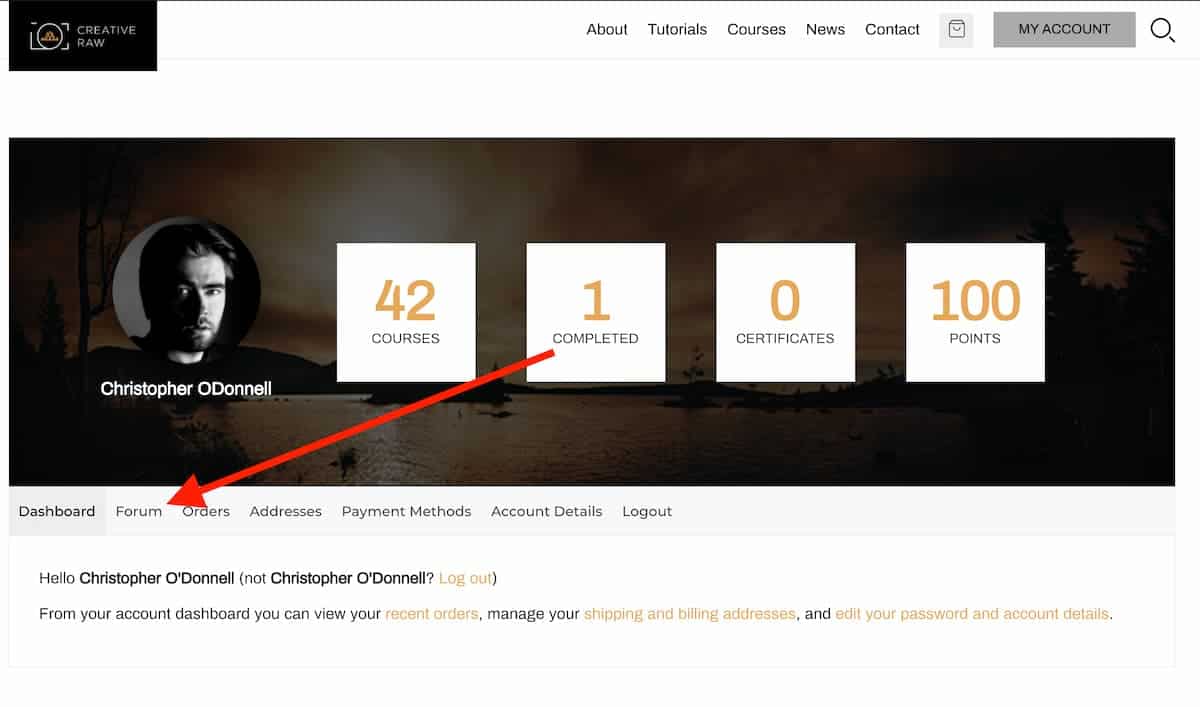 Forum Categories
The discussion forum is separated into four different categories:
Introductions
If this is your first time here, please introduce yourself to the group: tell us where you're from, what inspires your photography, and share your work!
Open Discussions
The Open Discussions forum is a place to connect with other members who are as passionate about photography as you are. All topics about landscape photography are welcome!
Guided Discussions
Guided Discussions is where we explore specific topics that encourage meaningful discussions about your creative process. I pick a topic to ponder, and open the floor to everyone. This is to spark ideas about your own photography and serve as "ice breakers" to get the conversation flowing with other members.
New Guided Discussion topics will be emailed to you when available, but please explore the existing discussions as they provide extraordinary insights into the creative process.
Note: I copied over previous guided discussions from another forum, so you may see some replies marked as 'Archived Reply".
Critiques and Feedback
Here you can share your photographs This is NOT a place to simply post your photographs without context. If you have specific questions about your workflow, would like to share your process, or you are otherwise sharing your images to start a conversation…then that's absolutely encouraged.
Setting Up your Forum Profile
If you already have an account on creatveRAW, then you can post in the forums. However, there are a few changes you may want to make before you make your first post.
Change Your Username
By default, your username (the name that is associated with your posts) will either be your email address or your full name. It's not advisable to have this shown publicly, so here's how to change it:
Go to the main forum page and click My Profile > Account.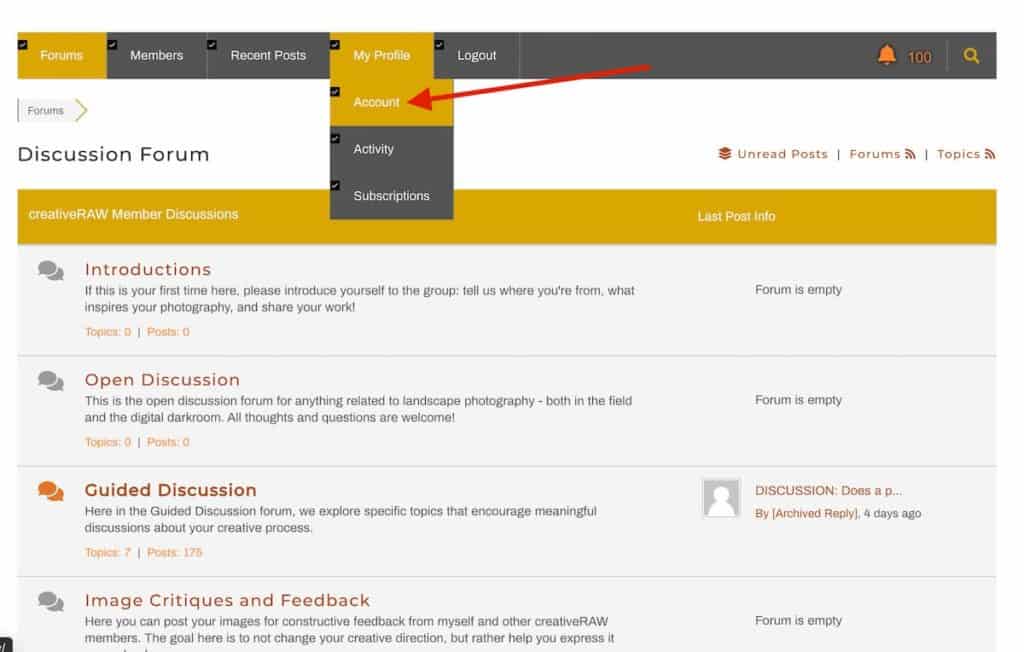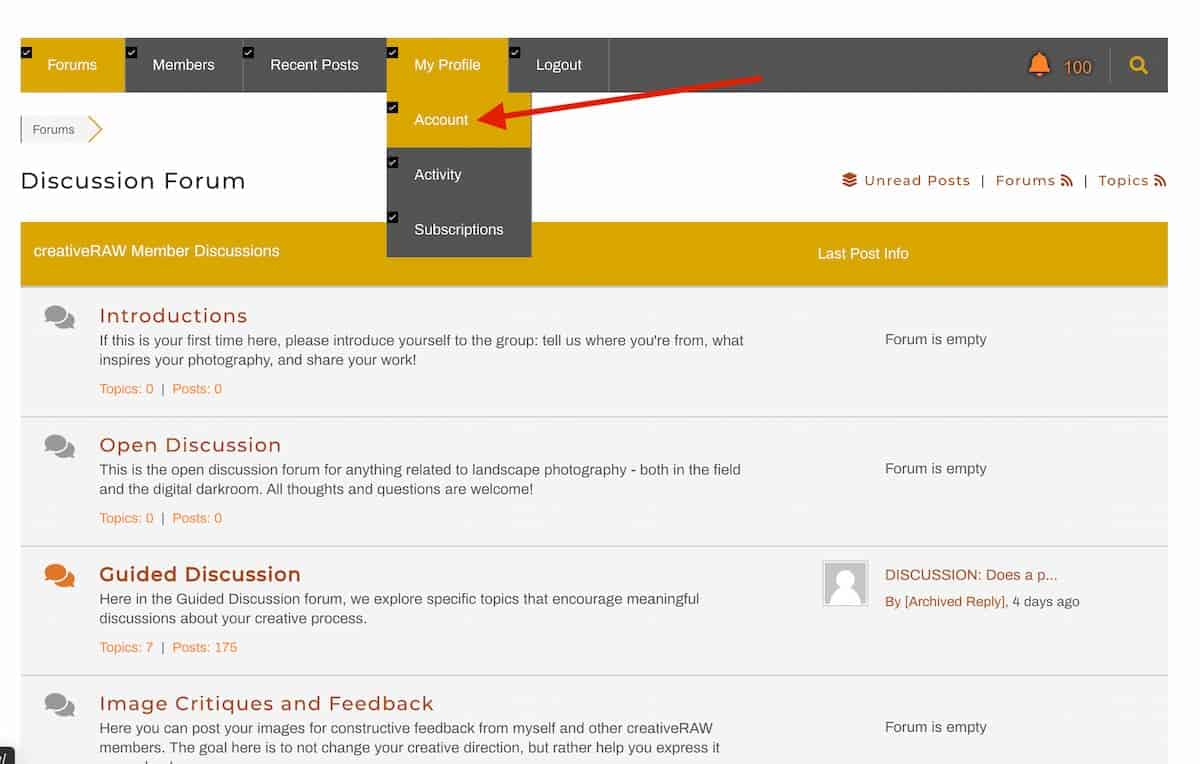 Under "Display Name", choose a username that does not contain your email or other sensitive information. Some ideas include your first name + unique characters (i.e. chris3390) or a game that reflects your hobbies and interests (i.e. photobug2210).
Make sure to hit "Save Changes" at the bottom to submit your new Display Name.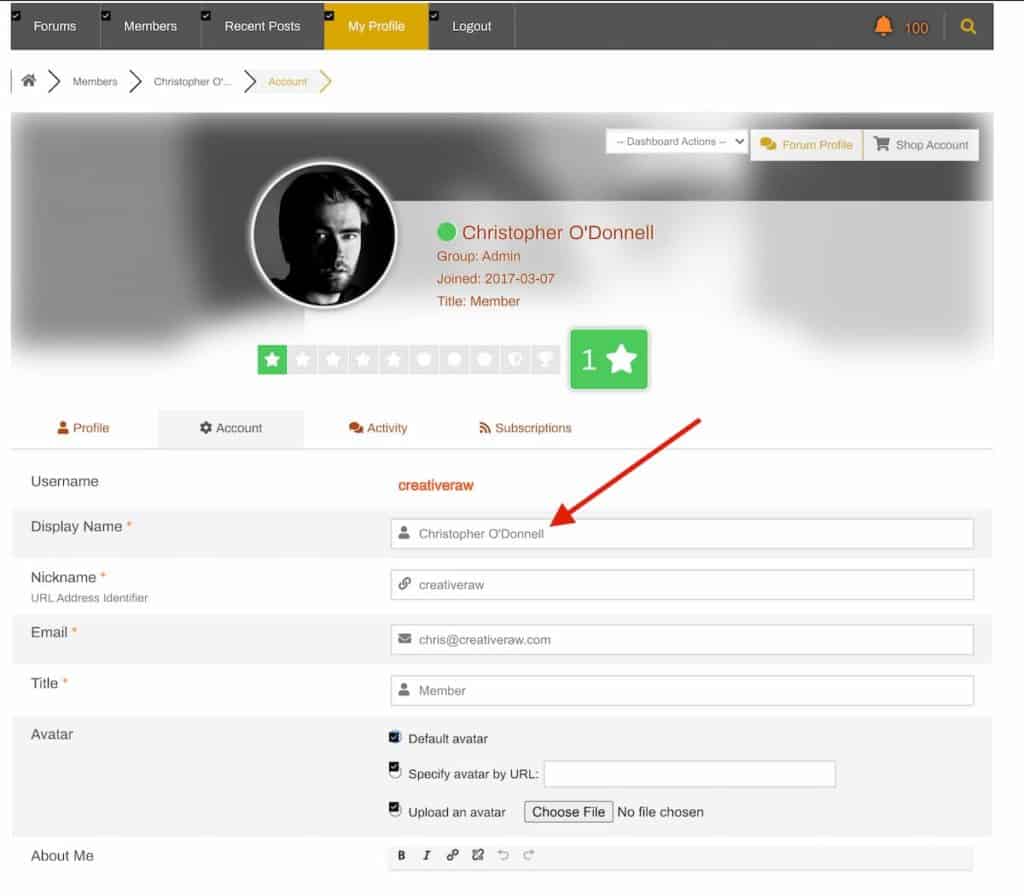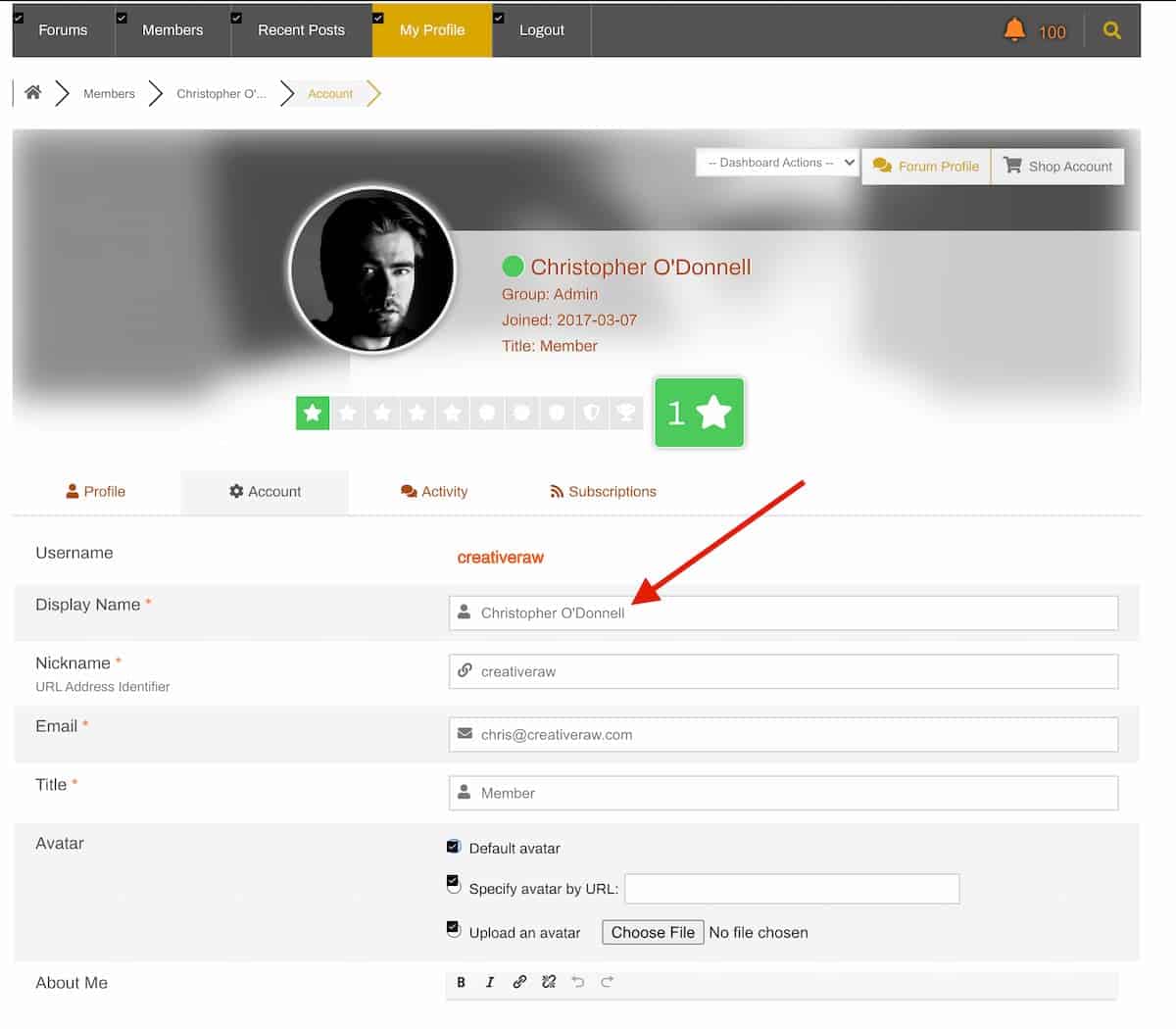 Choose an Avatar
While you're here, you can change your profile picture (avatar) which will be displayed next to your comments and help people put a face to your name.
By default, your Gravatar that is associated with your email address will be displayed here. If you don't know what that is or otherwise would like to change it, you can upload your own profile image.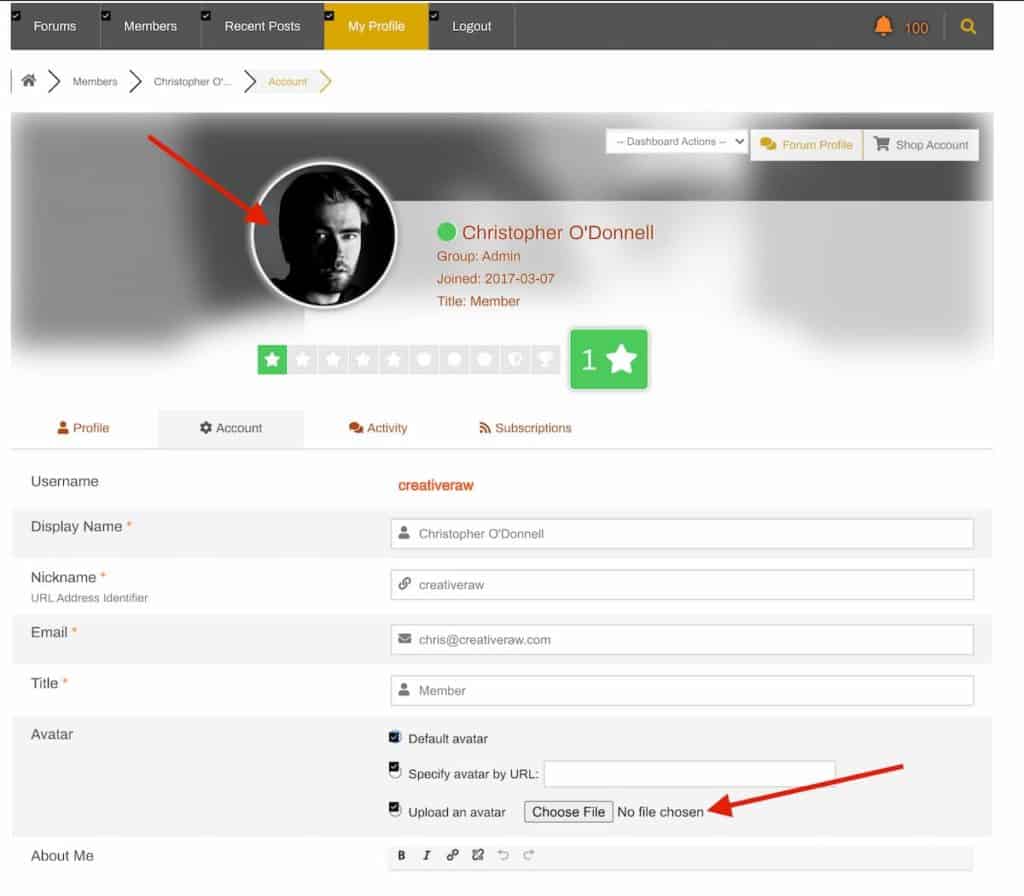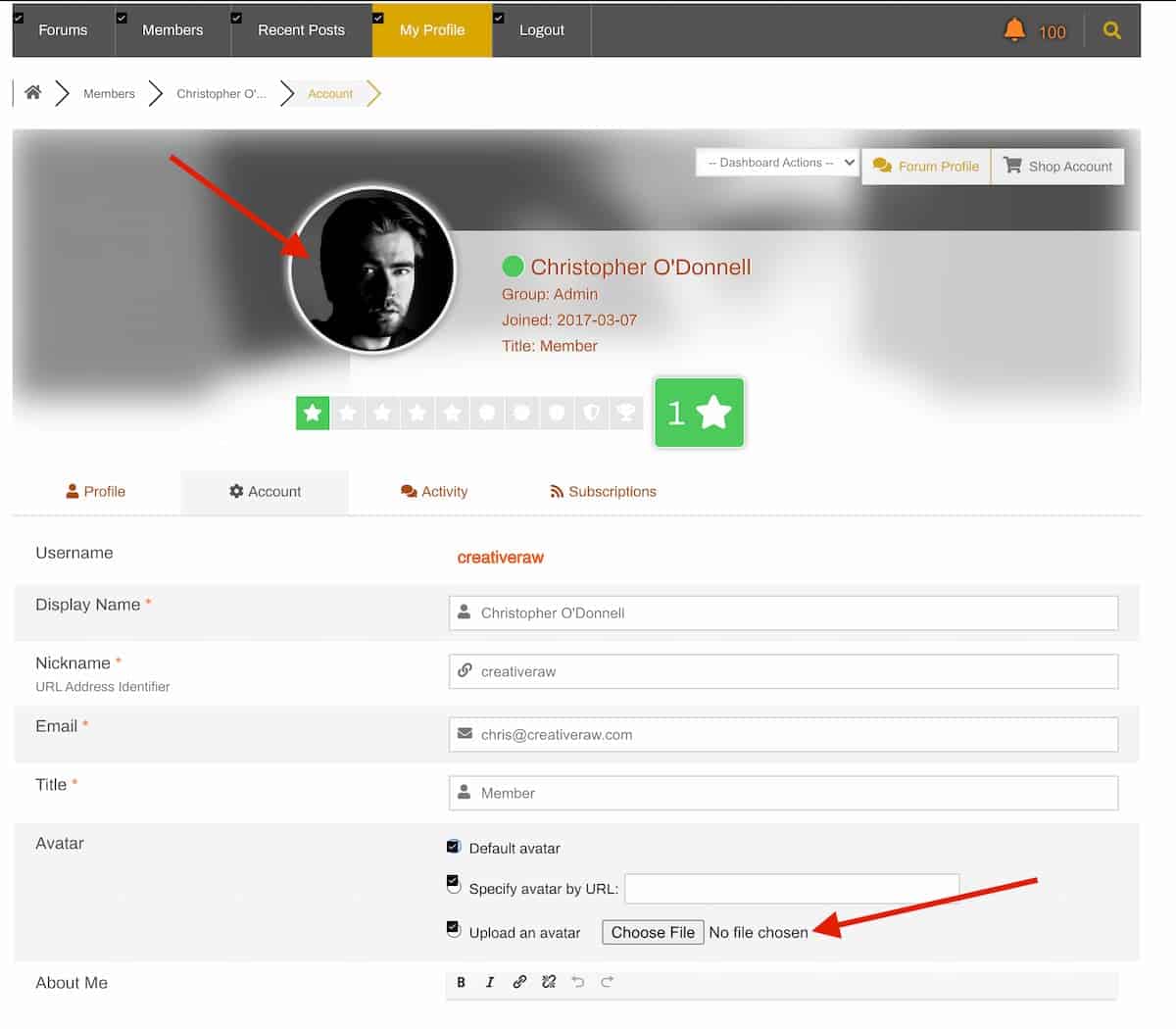 Note: Do NOT update your email address or password from this forum account page. Instead, use your Account Dashboard.
Posting a Topic
Starting a new discussion topic is rather straightforward.
First, select the forum you wish to post in, and press the ADD TOPIC button.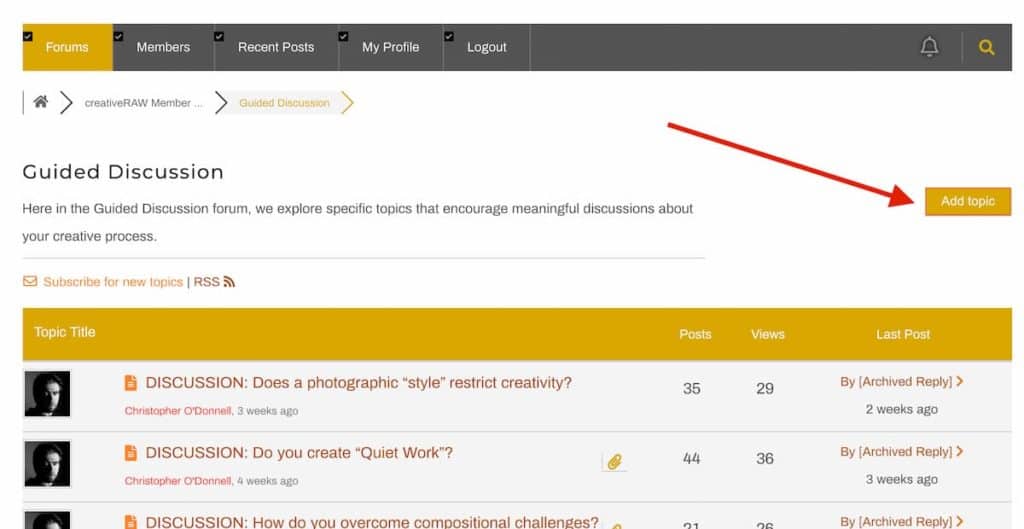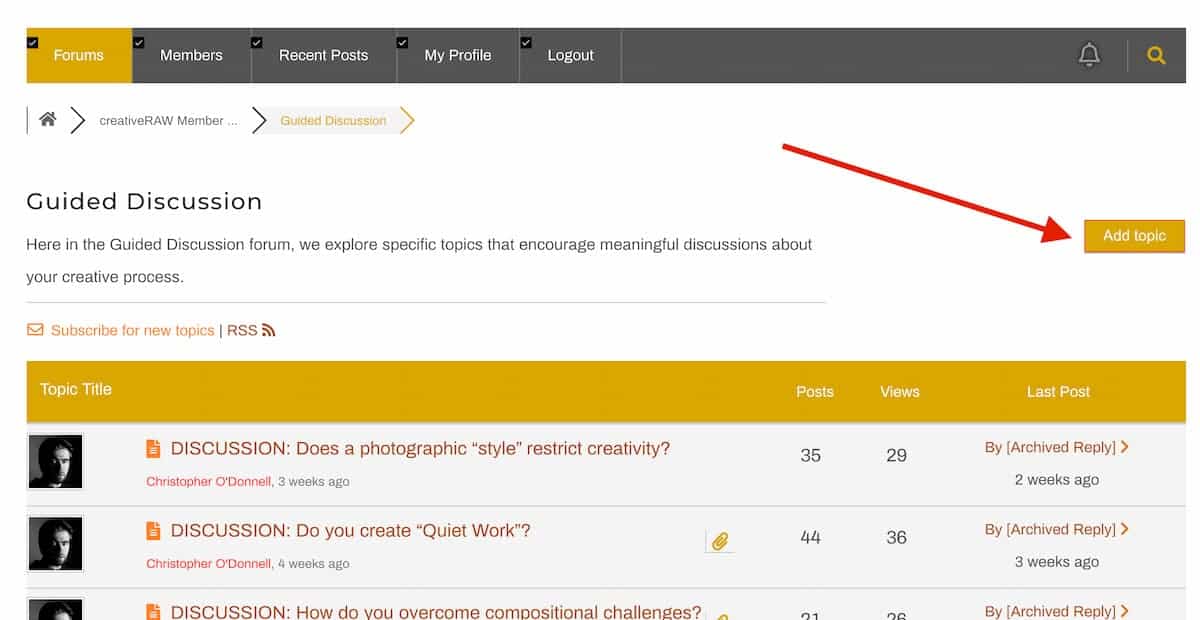 Enter your Topic Title and your message in the text field. All the typical text editing tools are at your disposal (text size, color, etc.).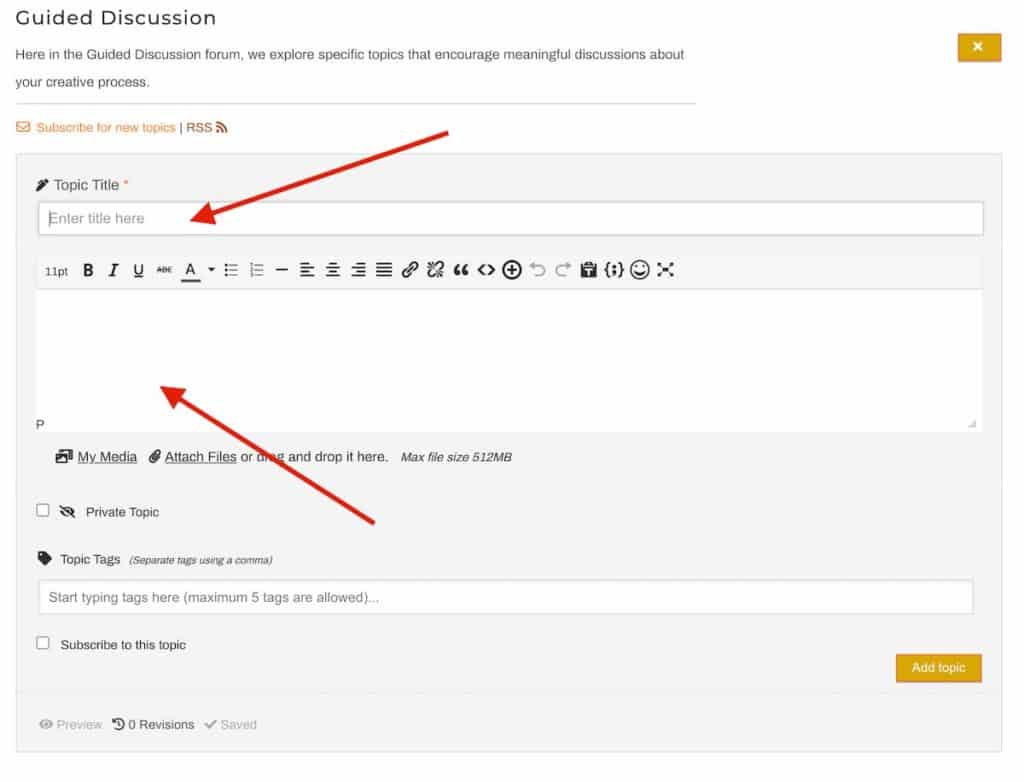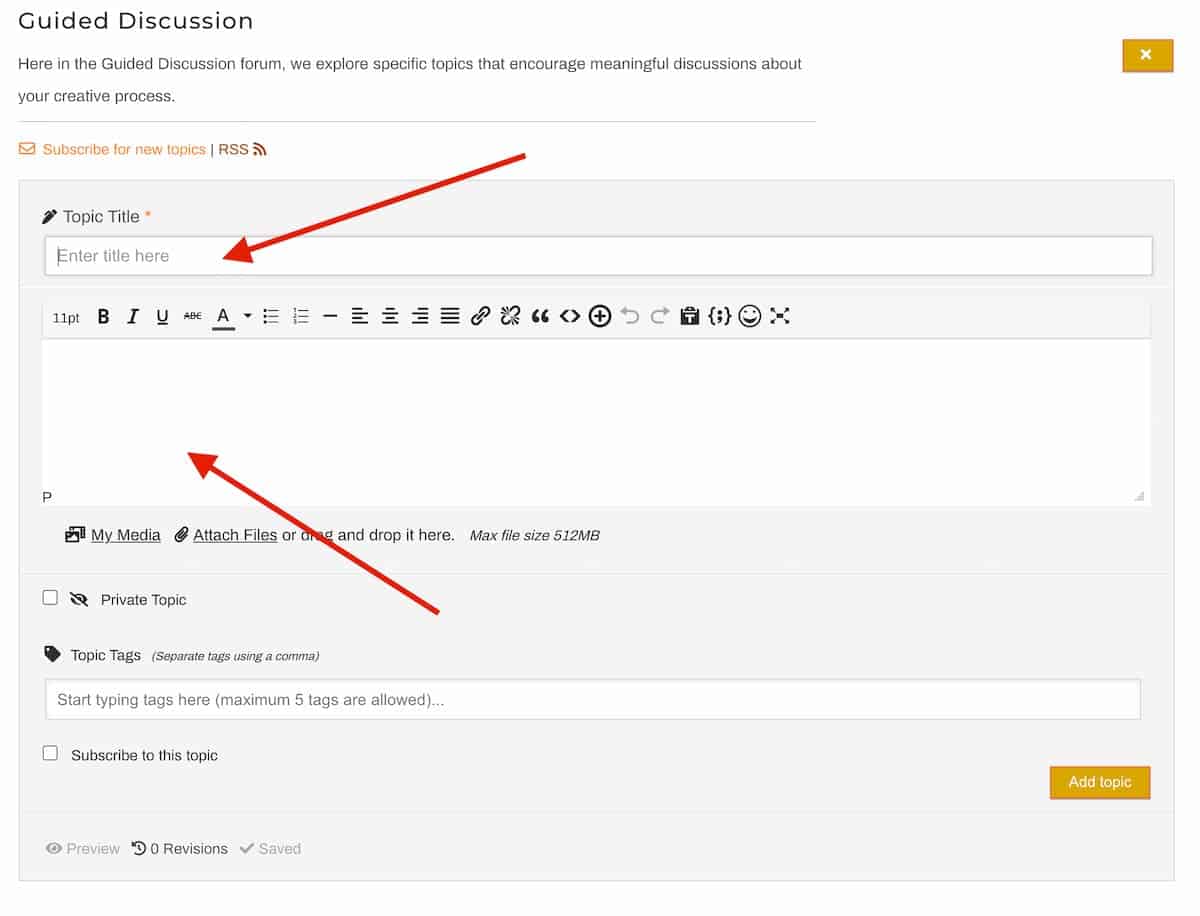 Add any photographs you want to the post by clicking the "Attach Files" link. You can also click and drag them directly into the text field, or you can copy an image to your computer clipboard and paste it into the text field itself.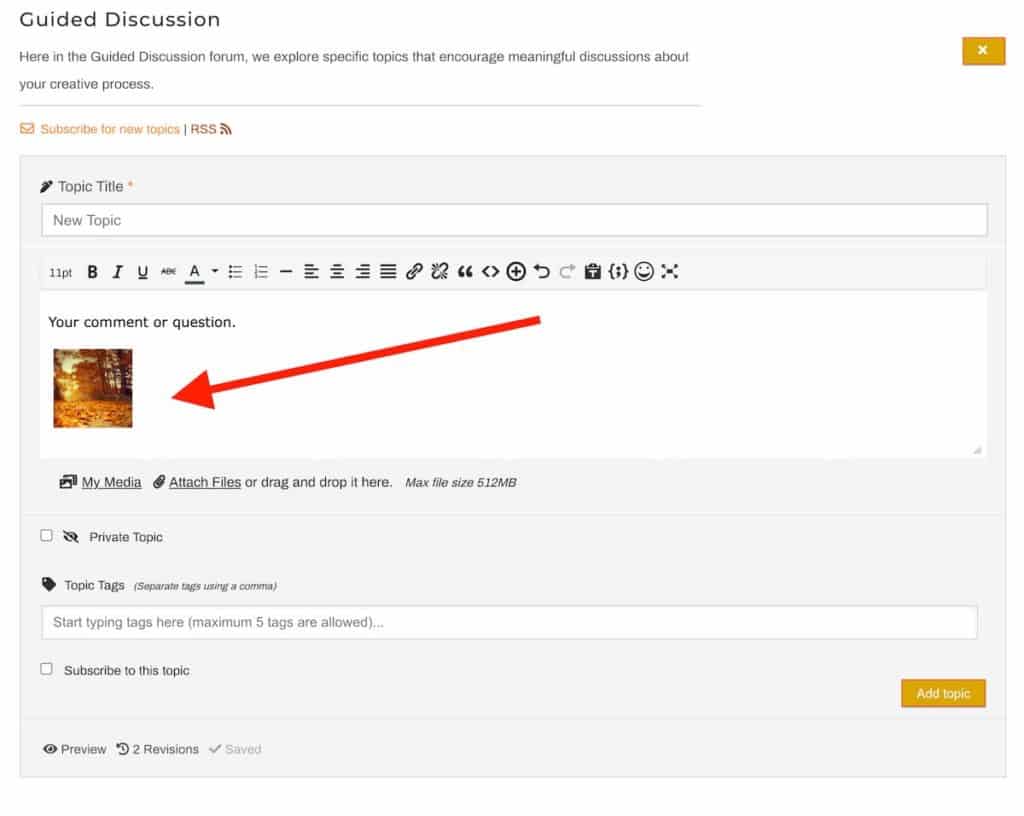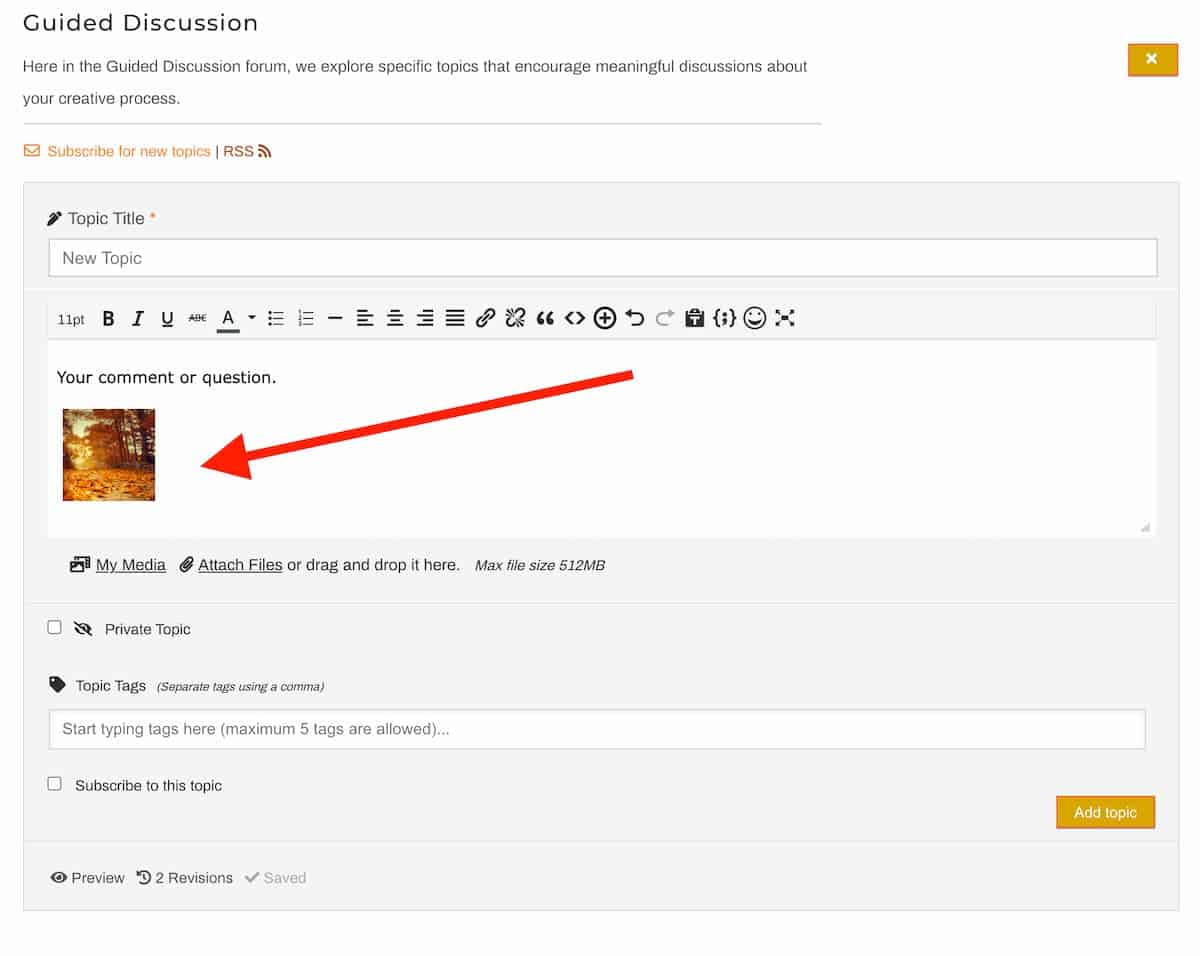 Note: Images are posted at full quality for an accurate representation of color and tone.
If you've already uploaded an image to a previous topic or reply, you can select the "My Media" link to scroll through your submitted files.
You can also add hosted video links (YouTube Vimeo, etc.) directly into the text field, and a video preview will display automatically.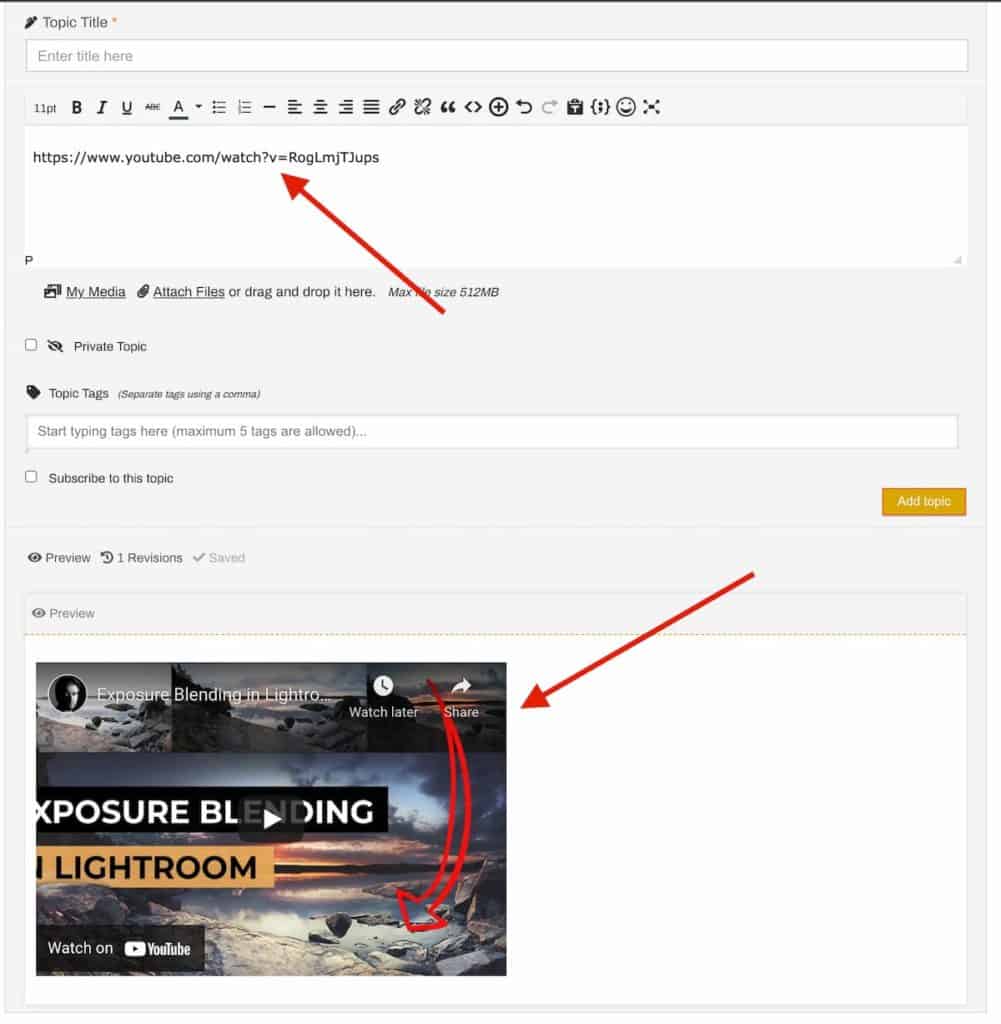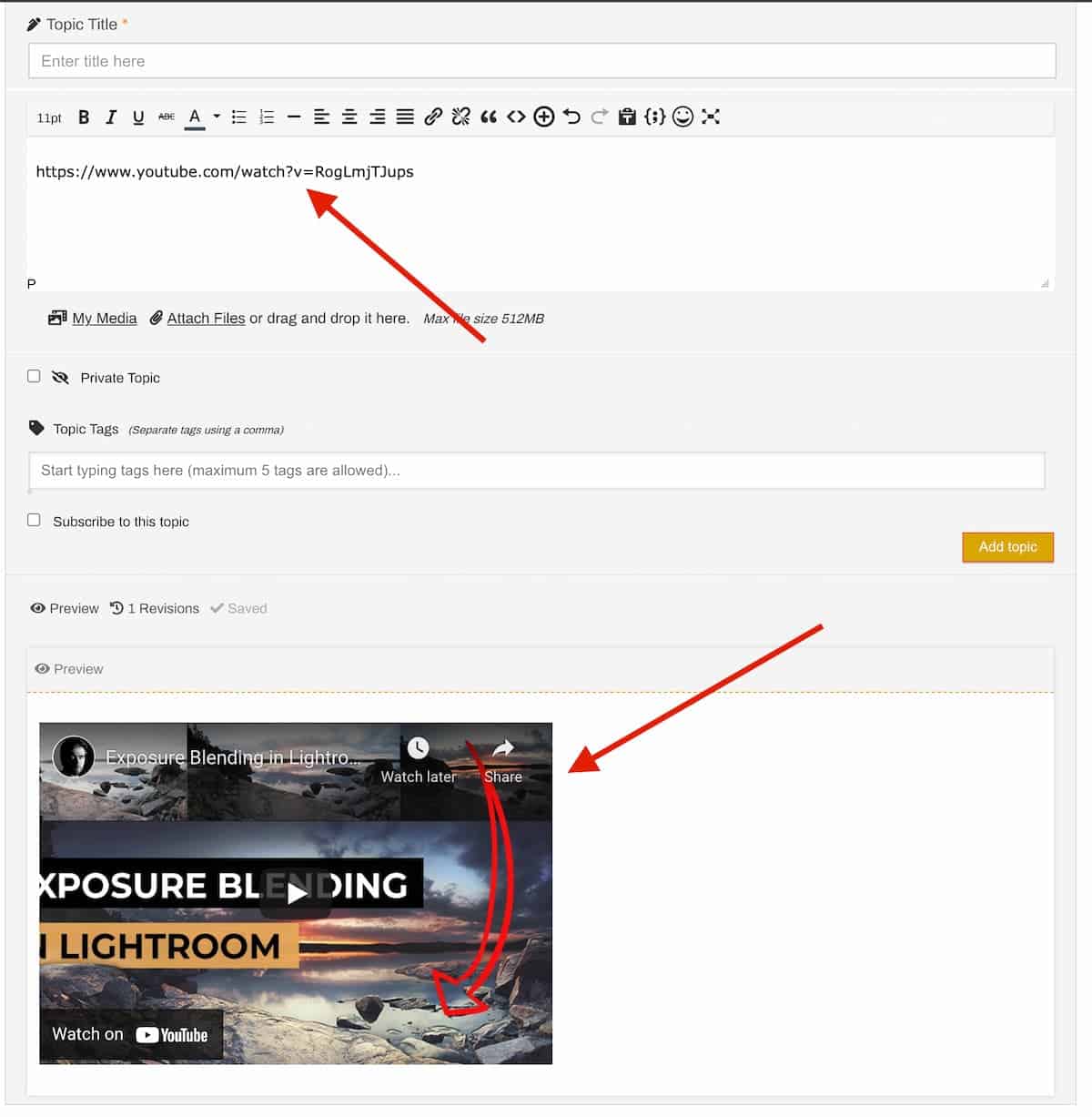 When finished composing your topic, first make sure to check the "Subscribe to this Topic" checkbox to be emailed when someone replies to your post.
Then, click "Add Topic" to submit your post!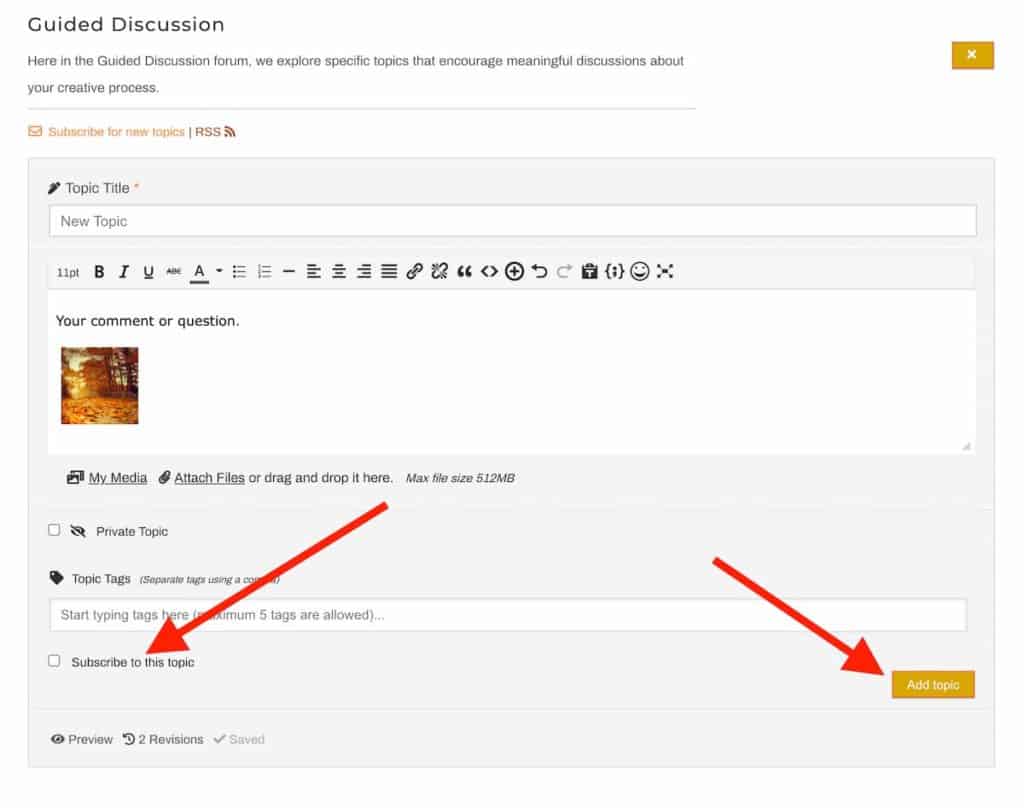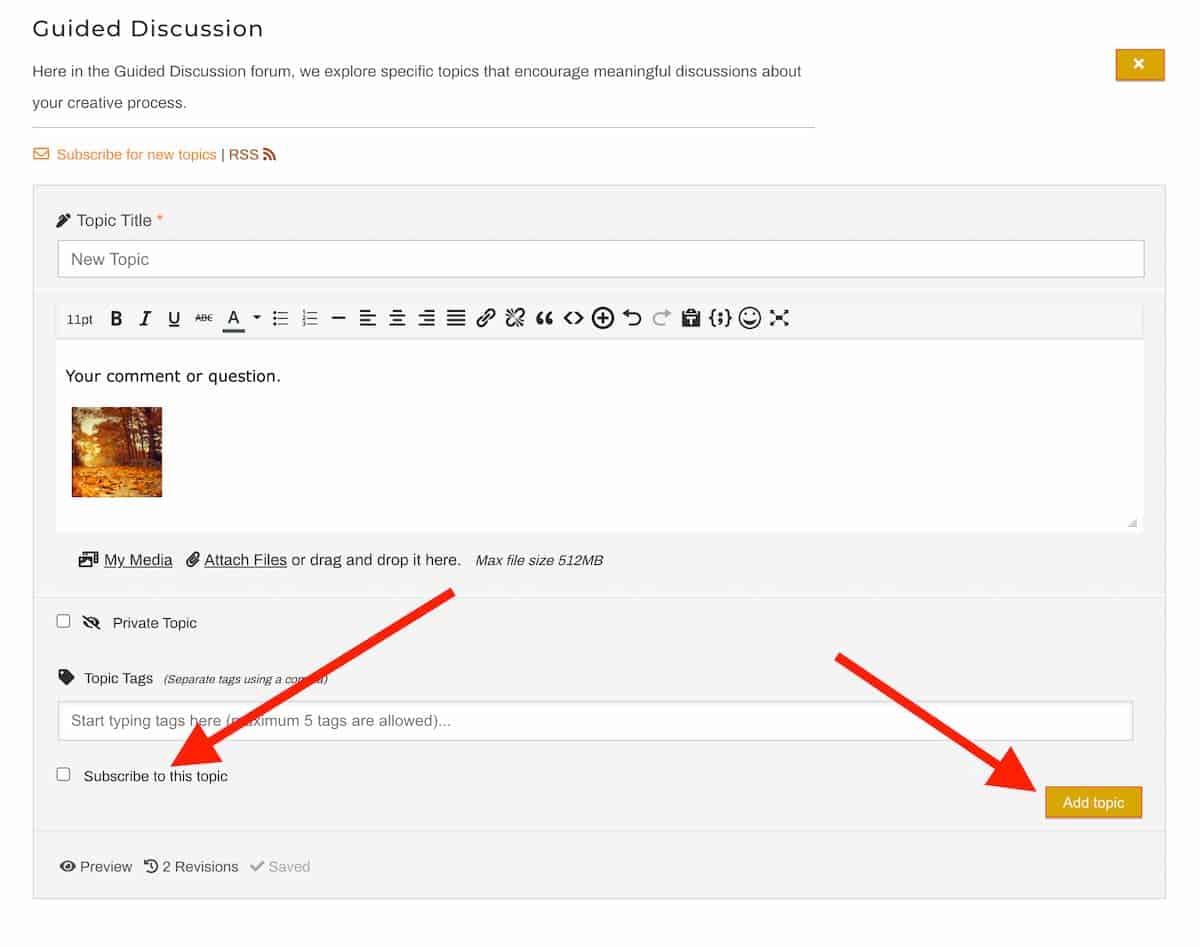 Posting a Reply
To reply to any topic, scroll down to the bottom of the topic page and add your thoughts. Replies can be written in the same way new topics are composed, including images and links.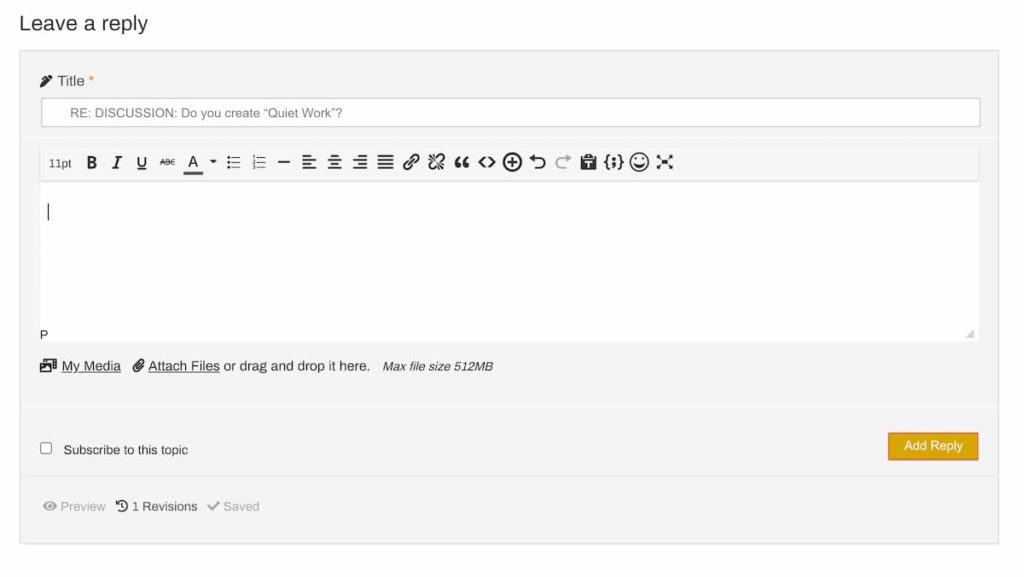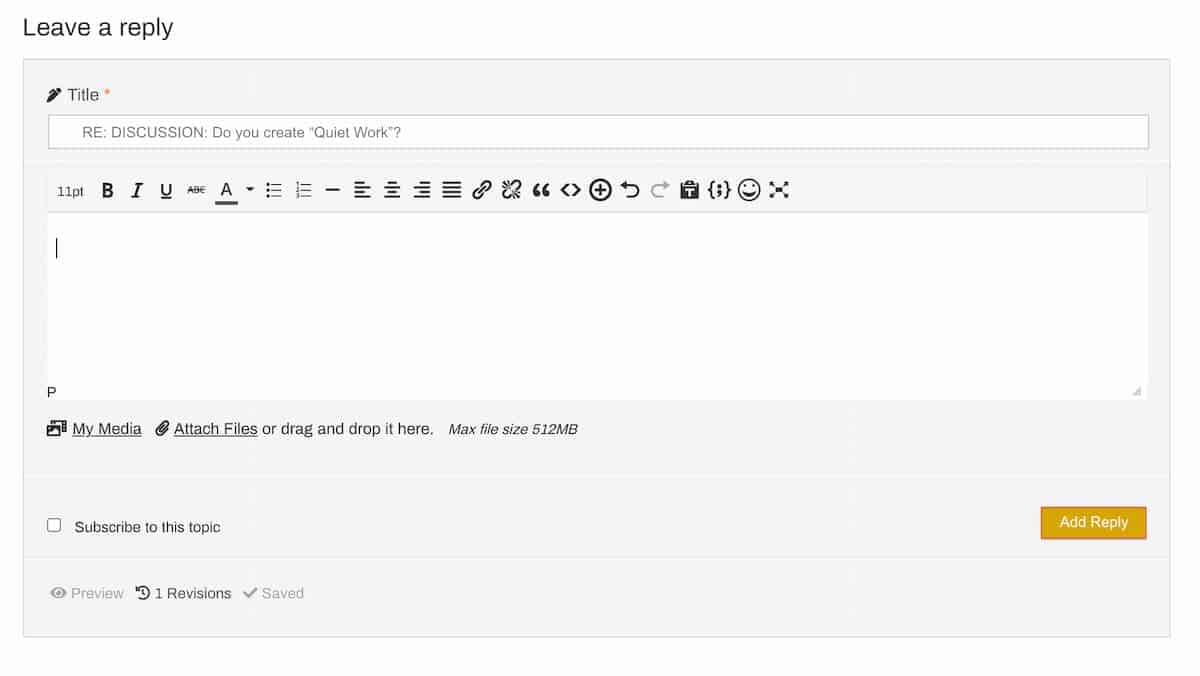 However, I suggest to QUOTE the topic or existing reply you want to comment on. This helps to provide context for your reply, and lets other readers understand the conversation thread.
Highlight the relevant part of the topic or reply you want to comment on, and press the quote ( " ) icon that comes up.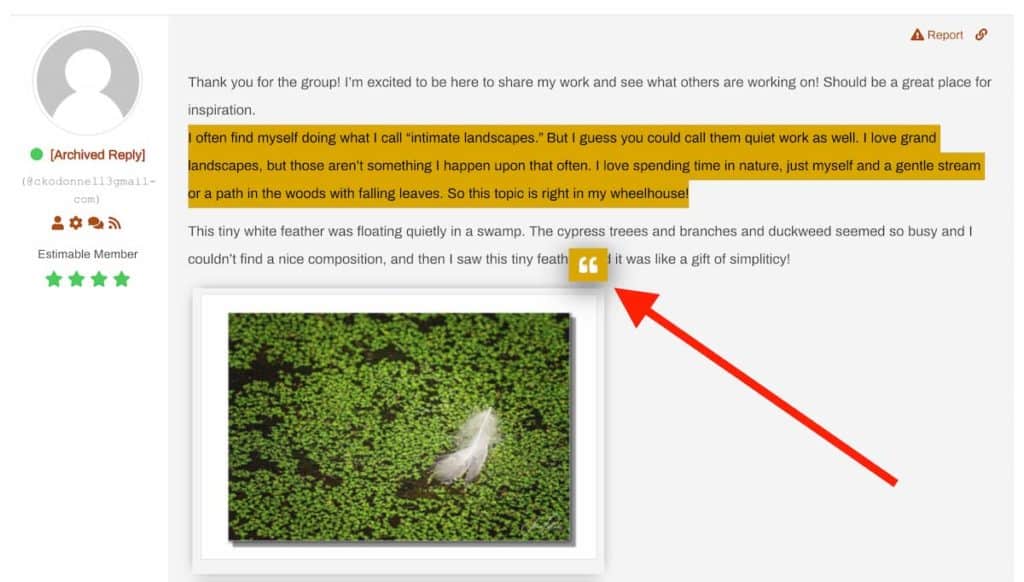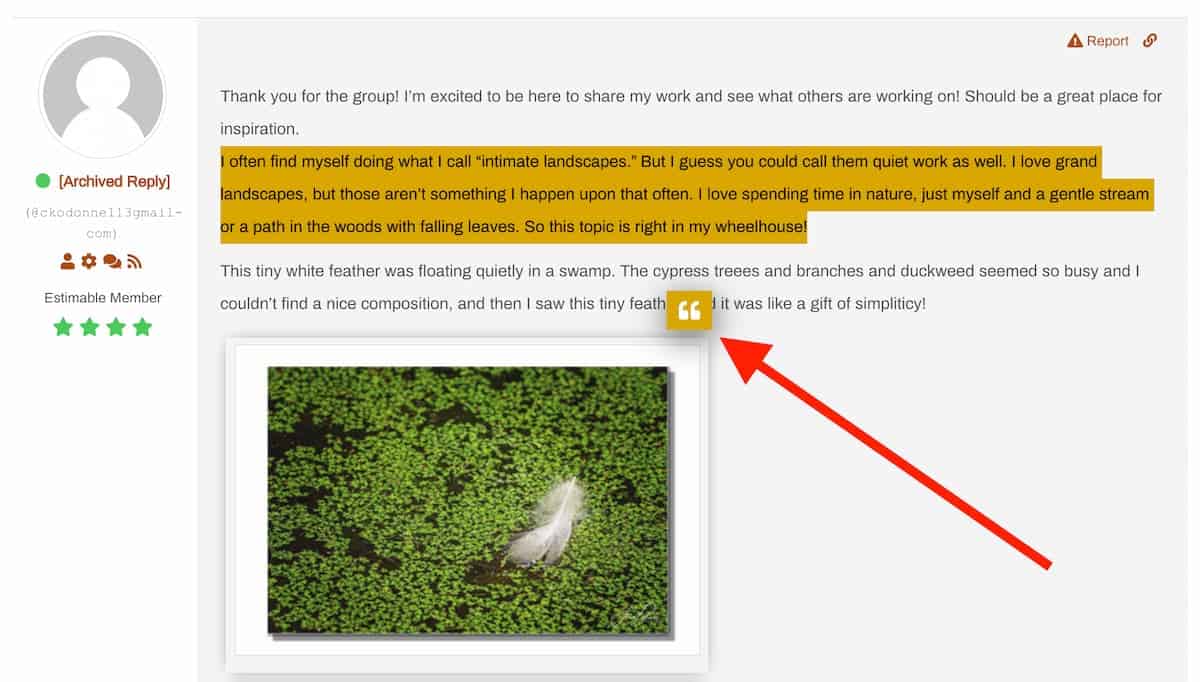 This will automatically populate your reply with the highlighted text and reference the original author. You can then write your response and thoughts underneath the quoted text.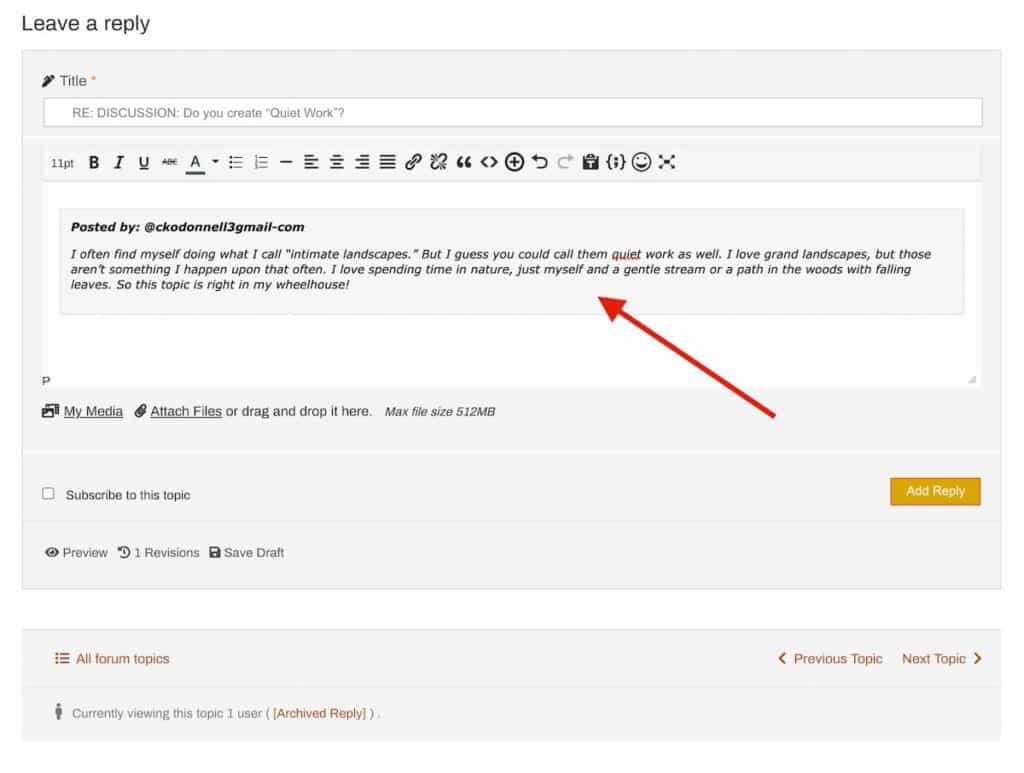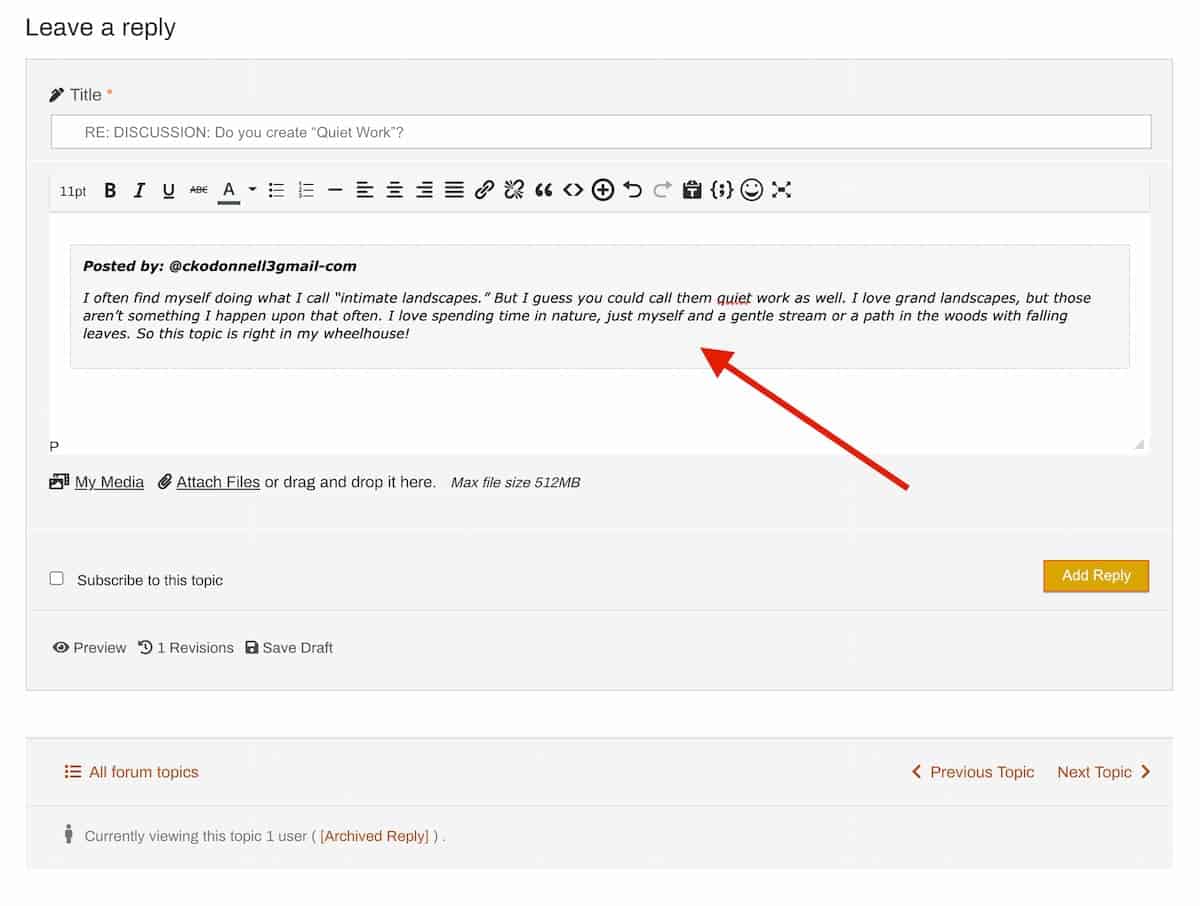 If you want to quote the entire topic or reply in your response, you can press the "Quote" link in the bottom-right corner of the topic/reply box. This can be easier than trying to highlight the entire message.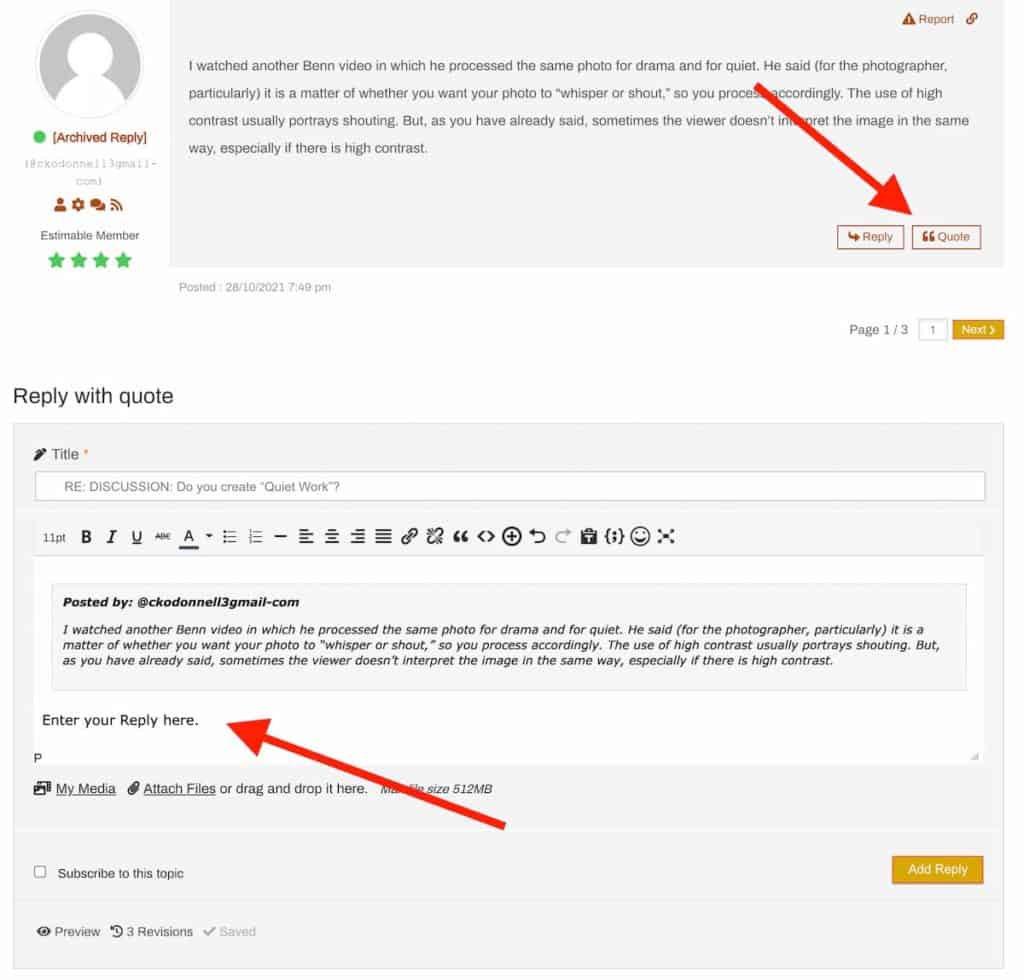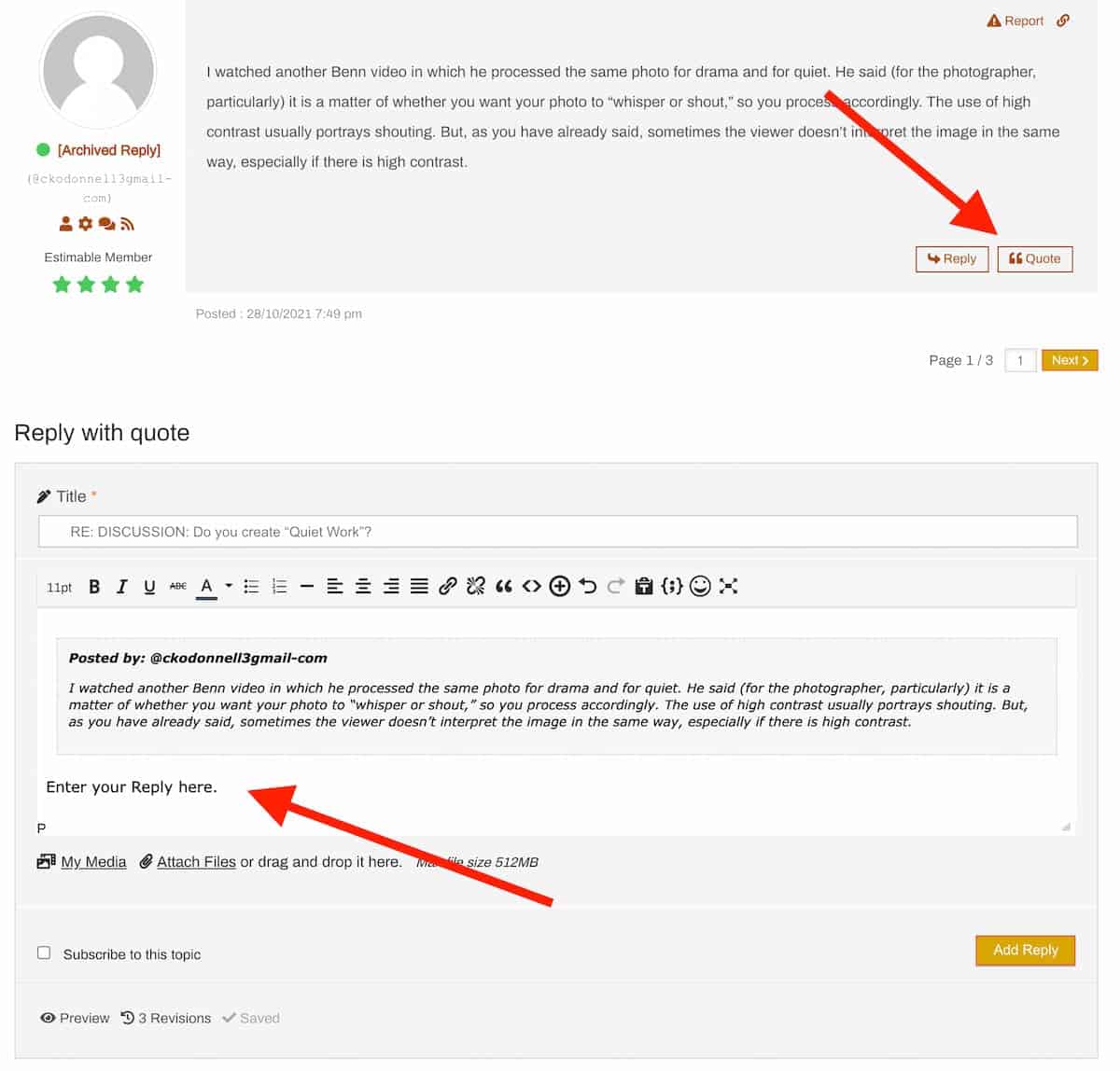 When finished, tick the "Subscribe to this Topic" to get emailed on follow-up replies, then press "Add Reply" to submit your comment.
Email Notifications
One of the most important features of this forum is receiving email notifications when new topics/replies are added…because you can't participate in the conversation if you don't know it's taking place!
By default, you will NOT receive emails on new topics and replies. You need to subscribe manually, which is quite simple to do.
To receive notifications when there is a new TOPIC posted in a specific forum, go to that forum and click the "Subscribe for New Topics" link.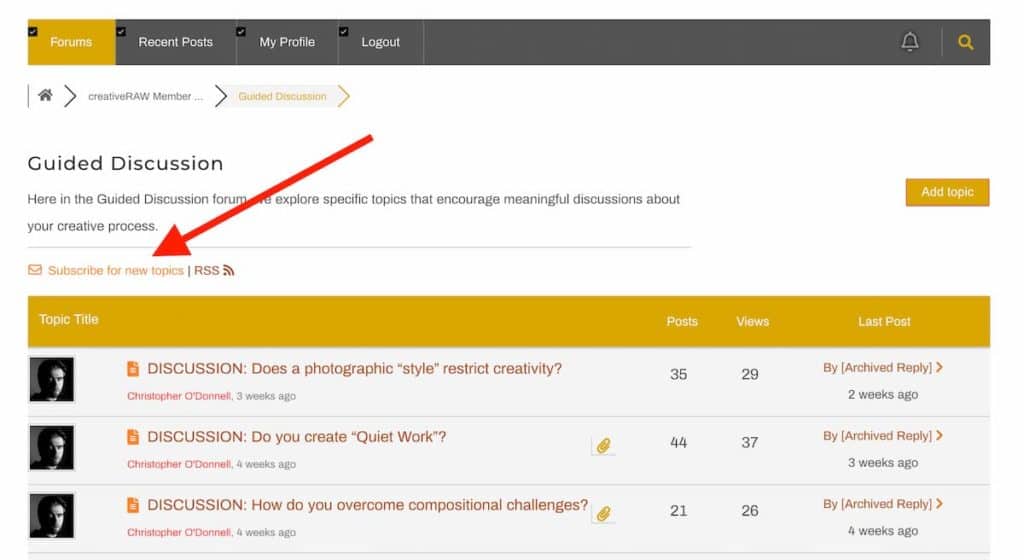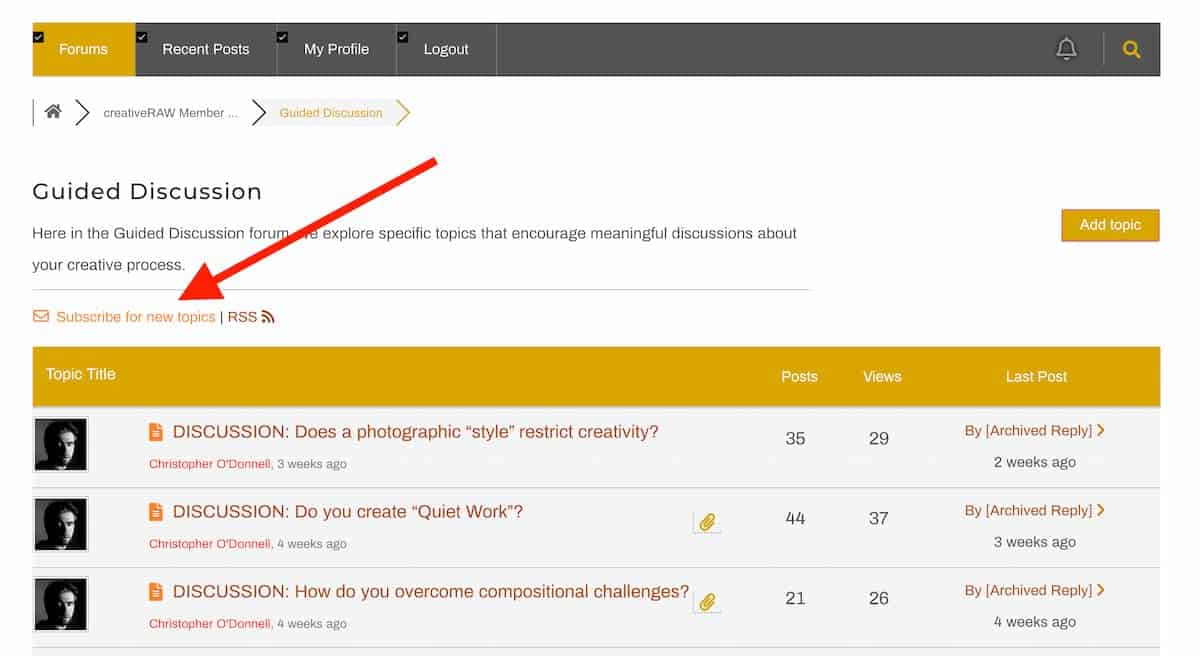 An email will be sent to confirm your subscription.
You can also subscribe to specific topics (threads) to get an email whenever there is a new reply. This is helpful for topics you've participated in or want to follow.
At the top of each topic page, click the "Subscribe for New Replies" link.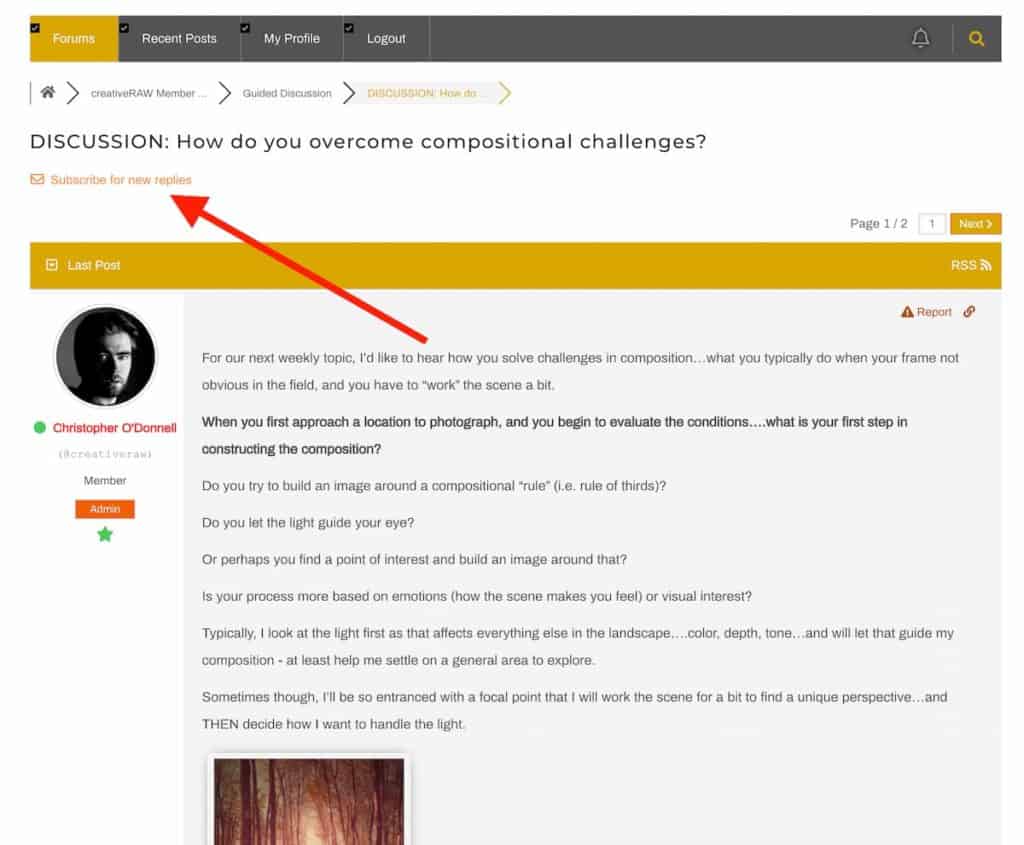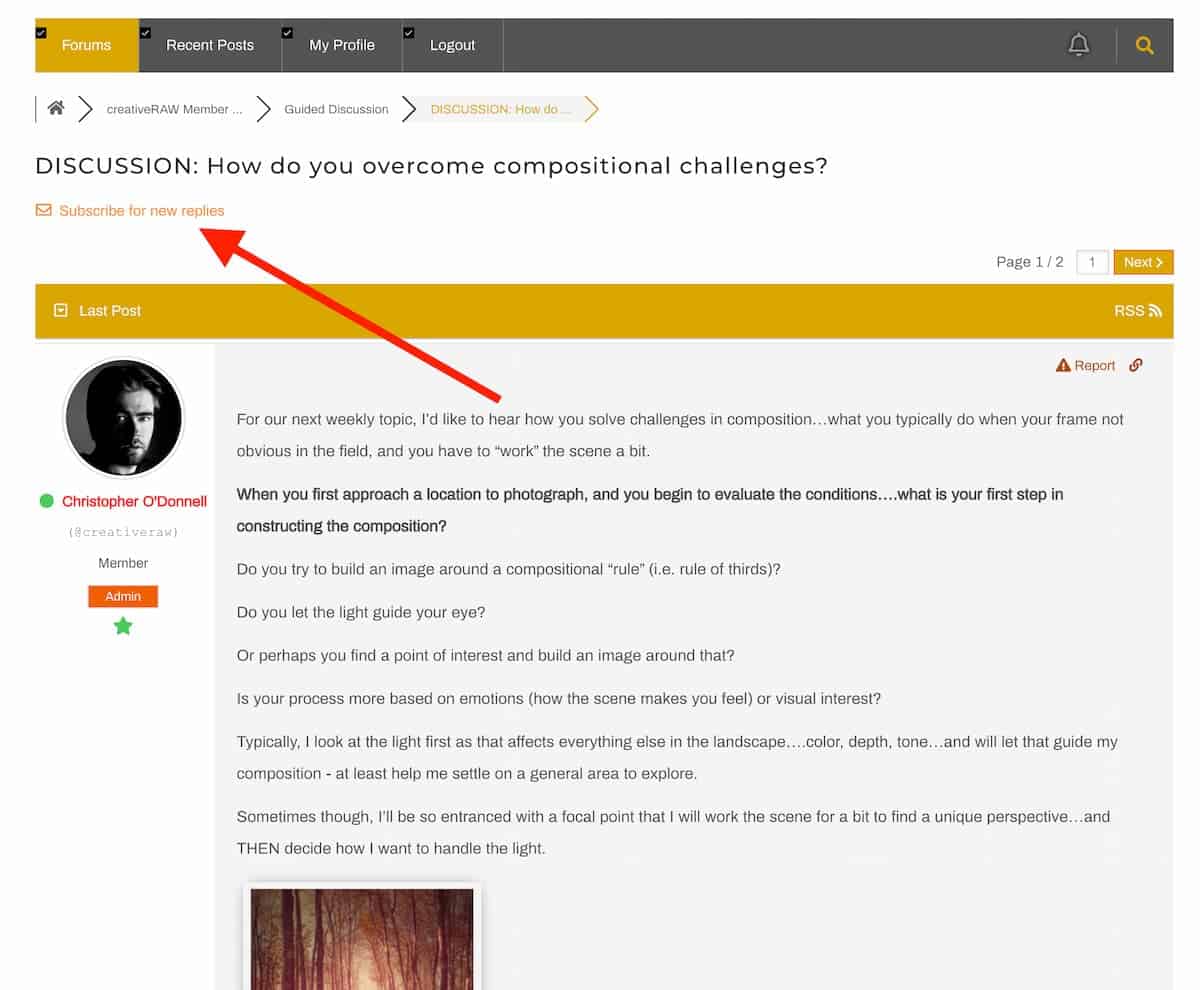 A confirmation email will also be sent for topic subscriptions that you need to click.
Unsubscribe from Email Notifications
To stop receiving emails for forum/topic updates, navigate to the specific forum/topic and click the "Unsubscribe" link at the top.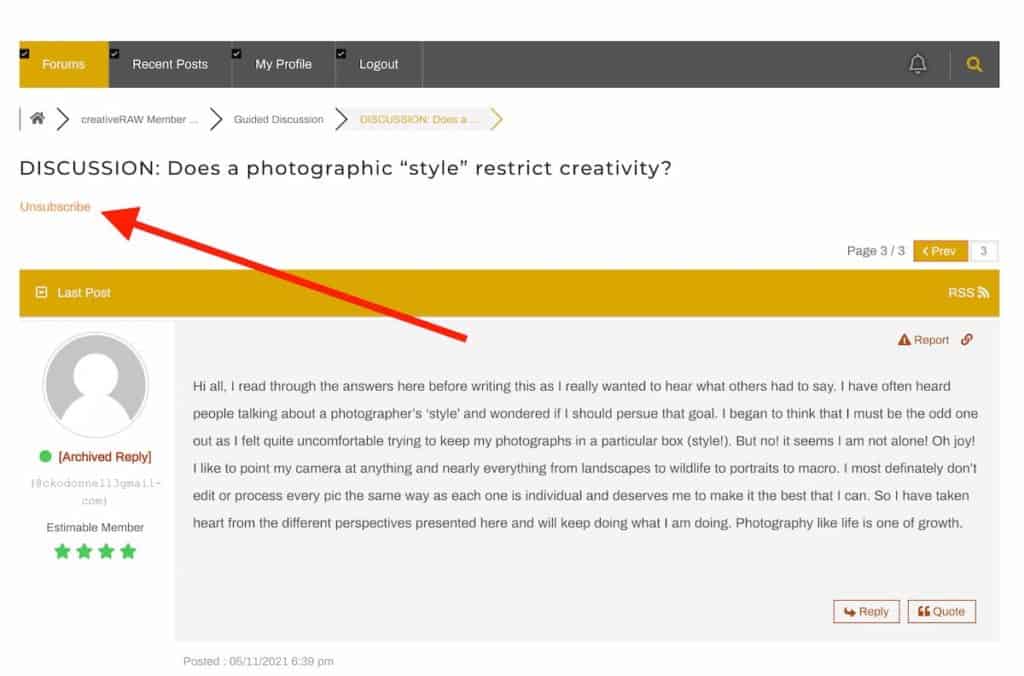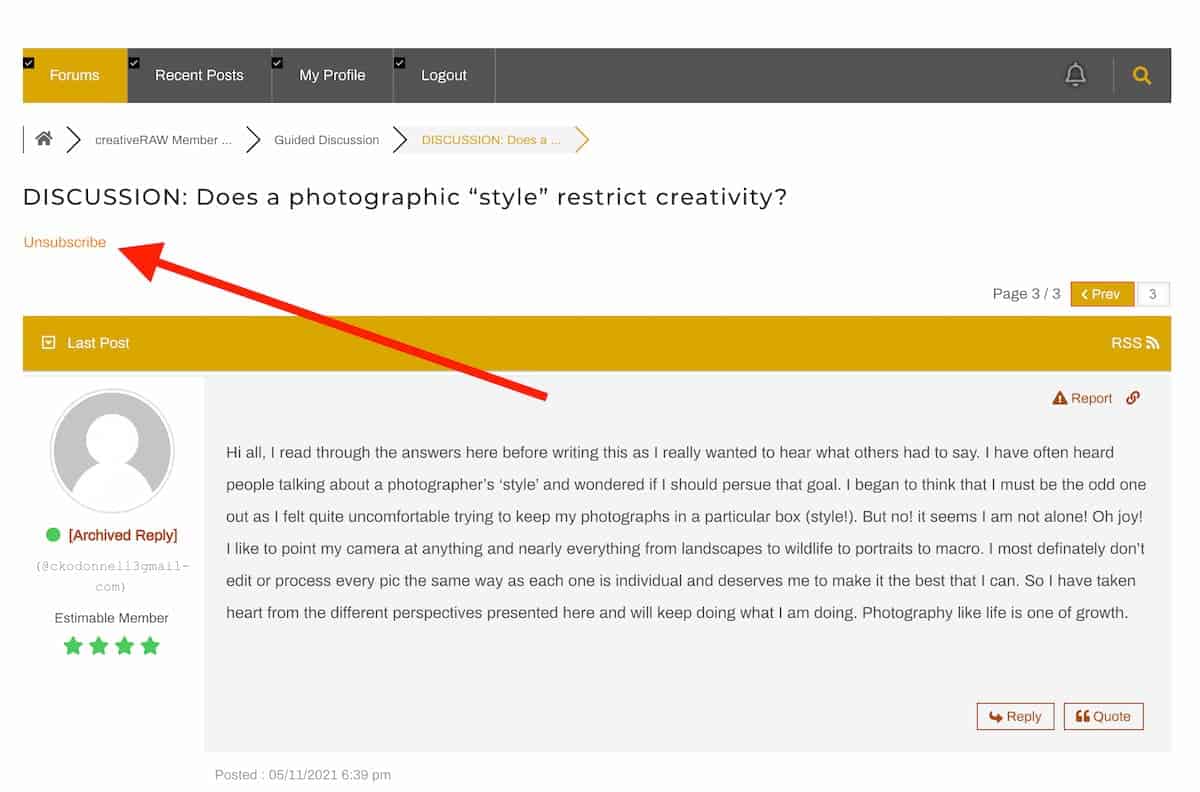 If you have any questions about the forum, please post them below and I'll add them to the guide!