Lightroom and Photoshop are Simple Programs to Master…
Although it may not always seem like it.
If you want to become an expert in Lightroom and Photoshop in the easiest, fastest way possible (without sacrificing quality)…
…chances are you'll want to learn how to do it properly.
The creativeRAW Lifetime Membership Program will show you the exact steps to my own Lightroom and Photoshop workflow...
So you don't have to waste years of trial-and-error figuring out the best way to process and organize your images.
Because I've already done all that for you.
Learn the "latest and greatest" tools and techniques for creating extraordinary, artistic landscapes…and how to tame your image library and set up a flawless organizational system.
With expert, one-on-one guidance through beginner to advanced techniques, you'll learn how to masterfully use these programs with focus, intent, and direction...instead of random slider adjustments and hoping for the best. 
I can show you the exact blueprint to my processing workflow in a step-by-step training program that is ready and waiting for you, right now.

creativeRAW
Lifetime Membership Program
LEARN MY PROVEN SYSTEM TO MASTER LIGHTROOM AND PHOTOSHOP and create a faster, easier, and more enjoyable workflow.
This comprehensive, 45+ hour training program tackles the entire Lightroom-to-Photoshop workflow. With 18 modules and over 200 bite-sized lessons, from import to export, I'll walk you through every feature of Lightroom and Photoshop in small, manageable steps so you can put these new techniques into practice immediately.
Learn hundreds (literally) of professional tips, tricks, and valuable nuggets of knowledge that will transform your processing workflow.
The best part? This program comes with direct, one-on-one support for all of your Lightroom and Photoshop questions...whenever you need it.
Choose Your Payment Option Below and Get Started Today
Do You Have Any Questions? Need Help?
Write me directly at chris@creativeraw.com
HERE'S EXACTLY WHAT YOU'LL LEARN ABOUT LIGHTROOM…
IMPORT LIKE A PROFESSIONAL
The best workflow in Lightroom starts right at the beginning with the import window. Here you will save hours of frustration by learning how to properly import your images and prepare them for a seamless Lightroom workflow.
Working with catalog files: what they are and how to use them.
Learn all of the importing methods (copy, move, add, DNG) and how to choose one or more destination.

What previews are and how to choose the best format.

Save time by adding keywords, metadata, and develop presets at import!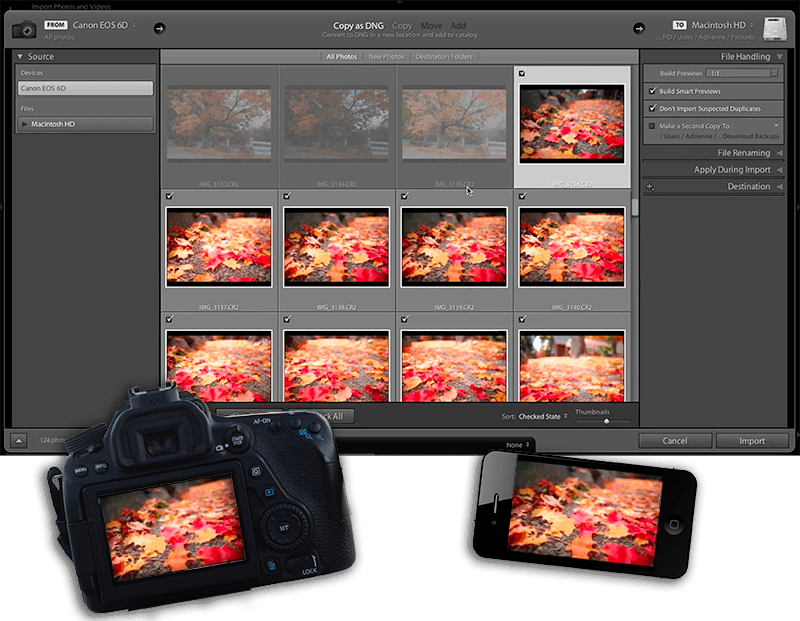 Lightroom isn't all about processing: the Library is indispensable for a photographer. With over 5 hours of video tutorials, I walk you through the entire Library for fast and efficient image organization and management.
Quickly rate, flag, and label your import for a streamlined organization.
Develop powerful culling strategies so you can cut down on the clutter and focus only on your best work.
All about keywords: Tips and tricks for adding easy-to-remember keywords that will greatly increase your organizational capabilities.
Learn the "ins and outs" of collections and how they are used to instantly pull images based on hundreds of variables: date, location, and even what lens or f/stop!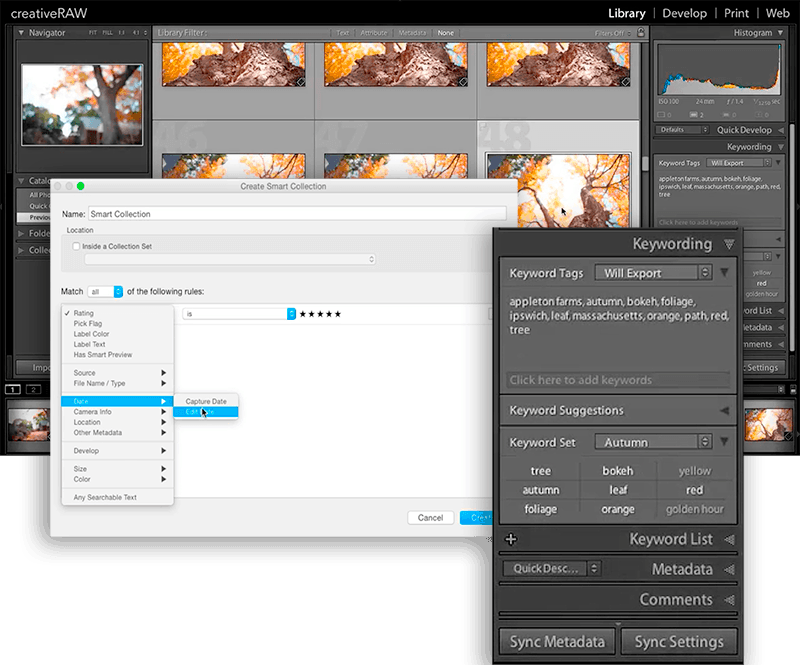 CLEAN & ENHANCE HIDDEN DETAILS
After the Library, we then jump into the Develop Module and learn how to use all of the revolutionary tools to recover and enhance your images. With almost 6 hours of instruction in this chapter alone, transform the unusable into exceptional photographs worthy of display.
How to expertly use global and local tools (such as the radial & graduated filters, the adjustment brush, tone curve and dehaze slider) for correcting exposure and recovering blown highlights/crushed shadows.
Complete walkthrough of noise removal, getting rid of dust spots and other unwanted distractions (such as power lines) and expert sharpening.
HDR merging and panoramas: how to blend multiple exposures together and recover the full tonal range, and also how to stitch frames together for a seamless panorama.
Master both the lens correction and camera calibration panels to instantly correct for any lens distortions and unwanted color casts.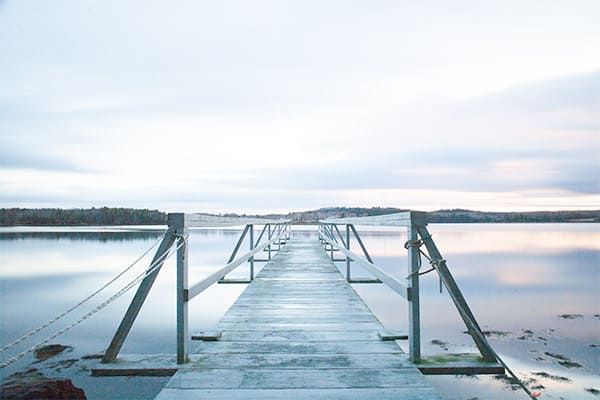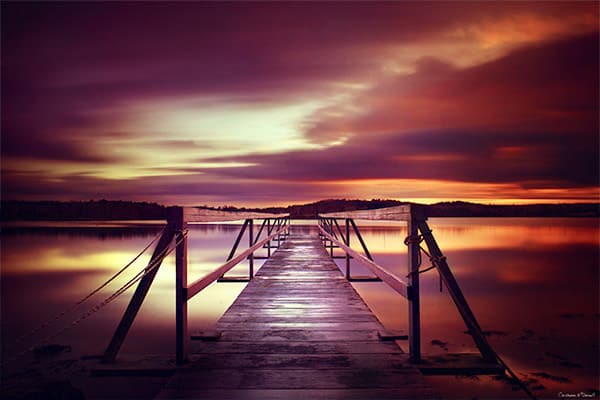 CREATE & ENRICH YOUR COLORS
Expand and enhance your processing vision: learn extraordinary creative techniques to bring out those beautiful (yet often hidden) colors and tones in your landscape photographs.
Learn how to use simple and advanced workflows for specialized creative effects.

Master cutting-edge color tools (such as the HSL panel, the point curve, and split-toning) to apply targeted color shifts for vibrant, one-of-a-kind landscape images.
Flow & Balance: Learn how to add custom vignettes and expertly dodge and burn to control the flow and balance of your composition.
HDR Color Processing: Discover how to color process HDR images and take advantage of the full tonal range, amplifying those hidden details and textures through precise adjustments.
BONUS! Three comprehensive lessons on developing your own creative vision so you can perfect a style that is instantly recognized as being yours.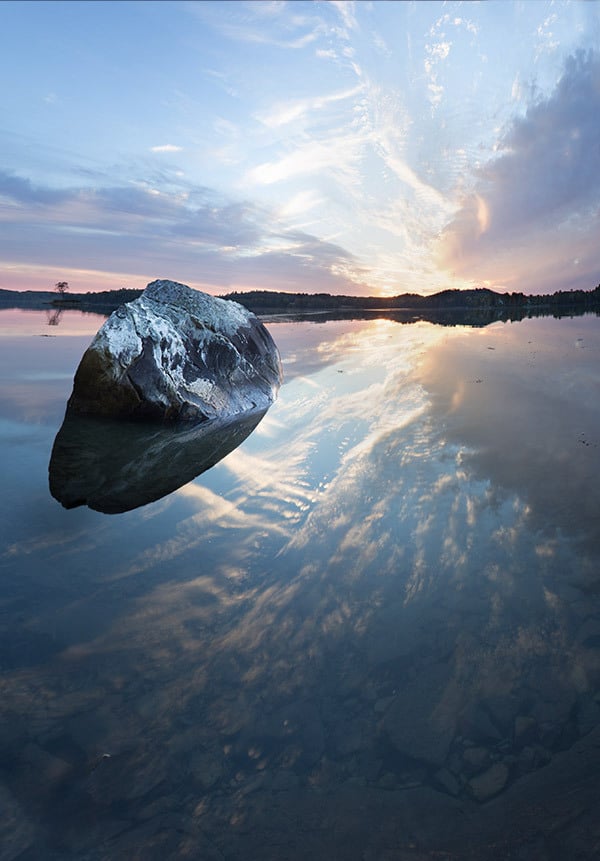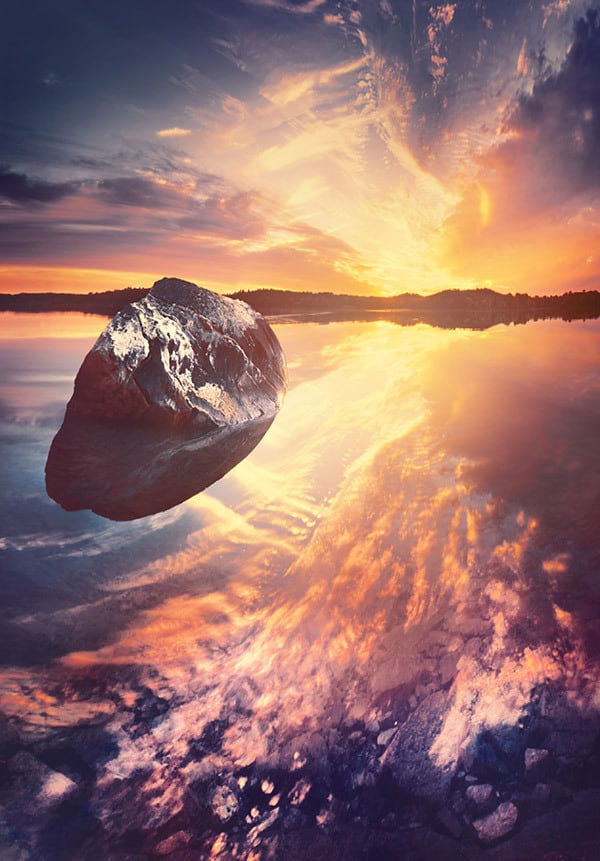 DRAMATIC BLACK & WHITE PROCESSING
Learn extraordinary tonal techniques that bring out the understated beauty of your black and white landscape photographs.
Master your filters and brushes for targeted black & white adjustments.
Learn how to create custom vignettes, and dodge and burn like a pro to direct the balance of your composition.
Enhance texture and contrast by controlling your highlights and shadows.

Greatly improve the mood and atmosphere by split-toning your black & white landscapes.


…and MUCH more!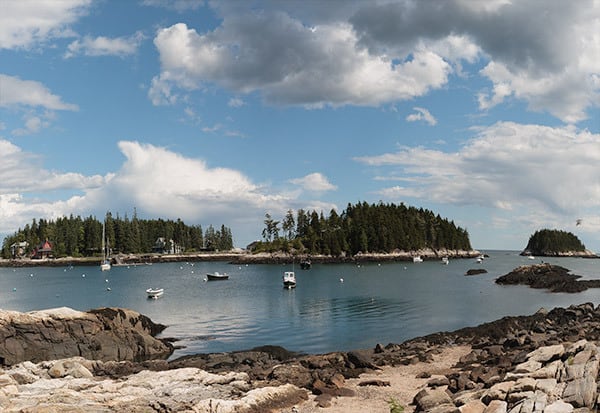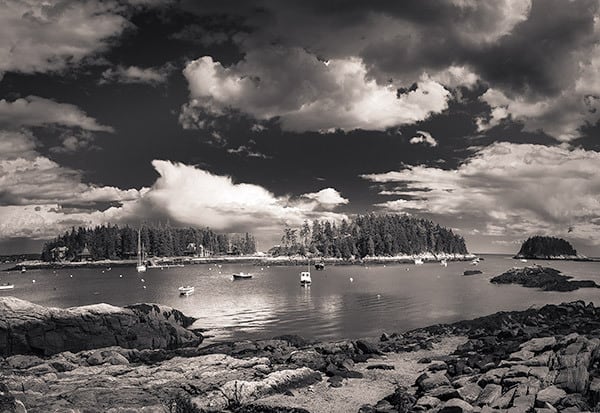 ALL ABOUT PRESETS, EXPORTING & PRINTING
Learn what final touches to add before exporting to give your images that polished look.

Complete walkthrough of the preset panel: how to edit, manage, and create your very own custom presets that enhance your unique workflow and techniques!
Full coverage of the export window: this course will walk you through the best settings to choose, whether sending to a printer or saving for web display.
Print Module: I'll show you how to print your images at home and easily create picture packages and custom layouts.
Time-saving features such as adding watermarks and creating professional contact sheets are also covered.
BONUS! Complete step-by-step walkthrough of the Map Module.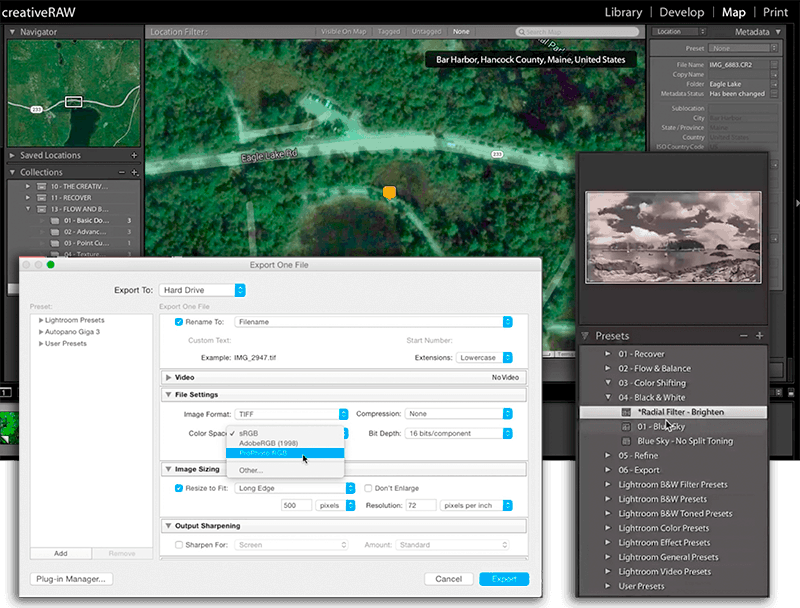 AND HERE'S EXACTLY WHAT YOU'LL LEARN ABOUT PHOTOSHOP…
Photoshop is used for a lot more than processing photographs, which is why your workspace can become cluttered with tools and panels you will never use. Tour the Photoshop interface with me and learn how to re-organize your layout just for photographers….giving you a smoother, more streamlined workflow.
Learn how professional photographers set up their interface for maximum efficiency and easy access to tools and palettes.

Tweak the default preferences. I'll show you the best settings to speed up performance and eliminate those unnecessary features that bog down your workspace.
Choose the correct color space and make sure that your tones and hues are accurately represented from import to export. No more disappointing color changes to your carefully processed image!
BONUS! Full walkthrough of ACR (Adobe Camera Raw) and how to properly enhance your raw file.
Now you can glide through Photoshop with speed and certainty instead of getting bogged down from clunky performance and a cluttered workspace.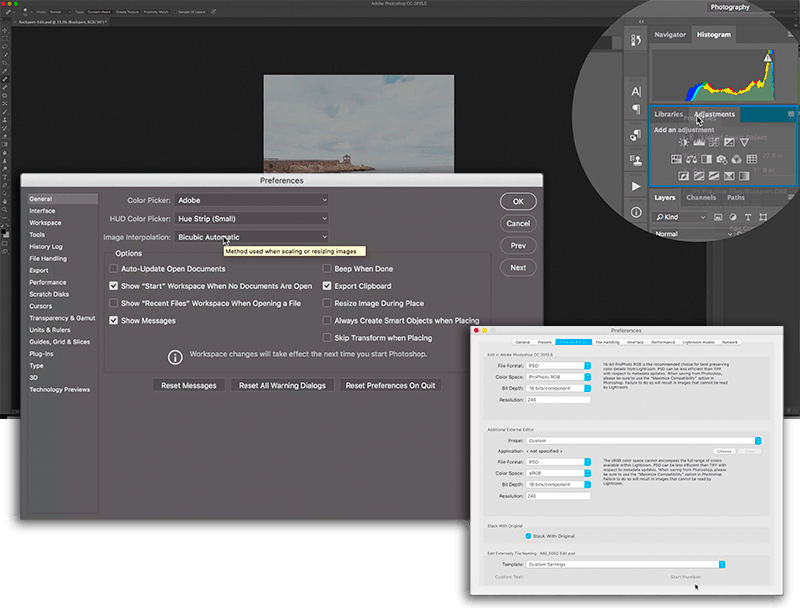 SIMPLE + ADVANCED EXPOSURE BLENDING
Deepen the meaning of your photographs with an expanded dynamic range. Learn the right way to capture (and blend) every single detail for an artful, yet completely natural-looking landscape photograph.
Join me as I walk you through my most challenging exposure blend of them all: a bracketed panorama shot directly into the sun.
Learn to blend exposures with 100% accuracy each and every time with luminosity masks and blend modes.
Blend without halos or muddy tones. I'll show you my tips for blending "inside of the lines" so you always have a perfectly-contoured blend with no loss of detail!
Reverse sensor blooming easily with smart objects. No more unsightly fringing or ghosting.
Light balancing techniques: My best methods for matching light between brackets for a realistic, yet artful blend.
Learn three additional blending workflows designed for simpler compositions.
A full walkthrough of the entire in-the-field bracketing process….giving you all the ingredients needed for a seamless exposure blend.
SPECIAL NOTE: Includes advanced tips and tricks not found in my free mini-courses.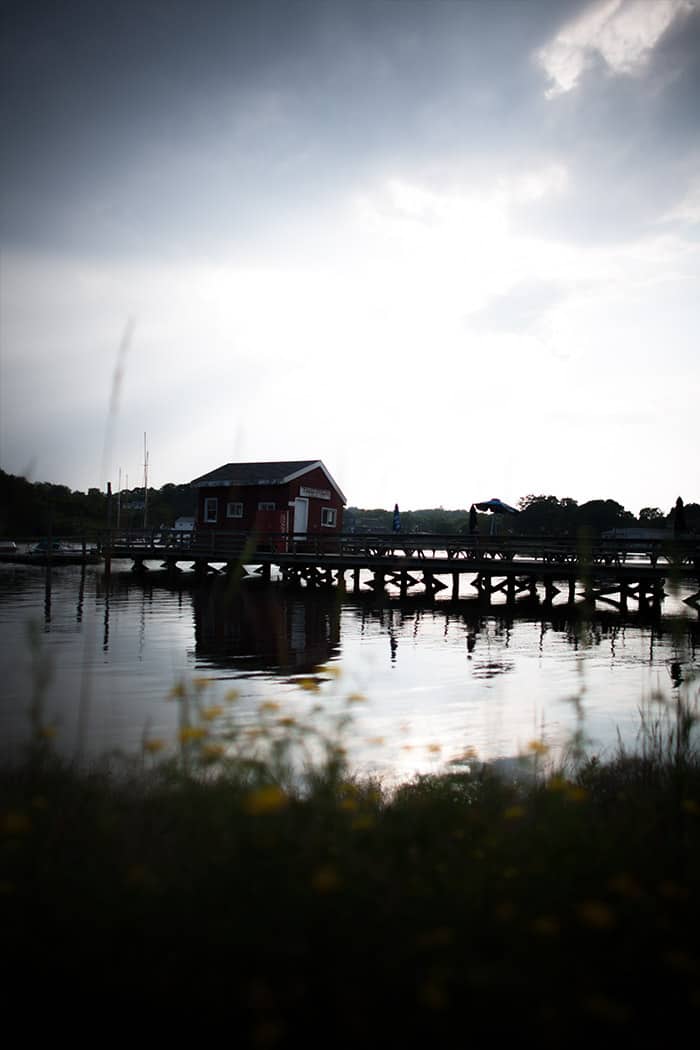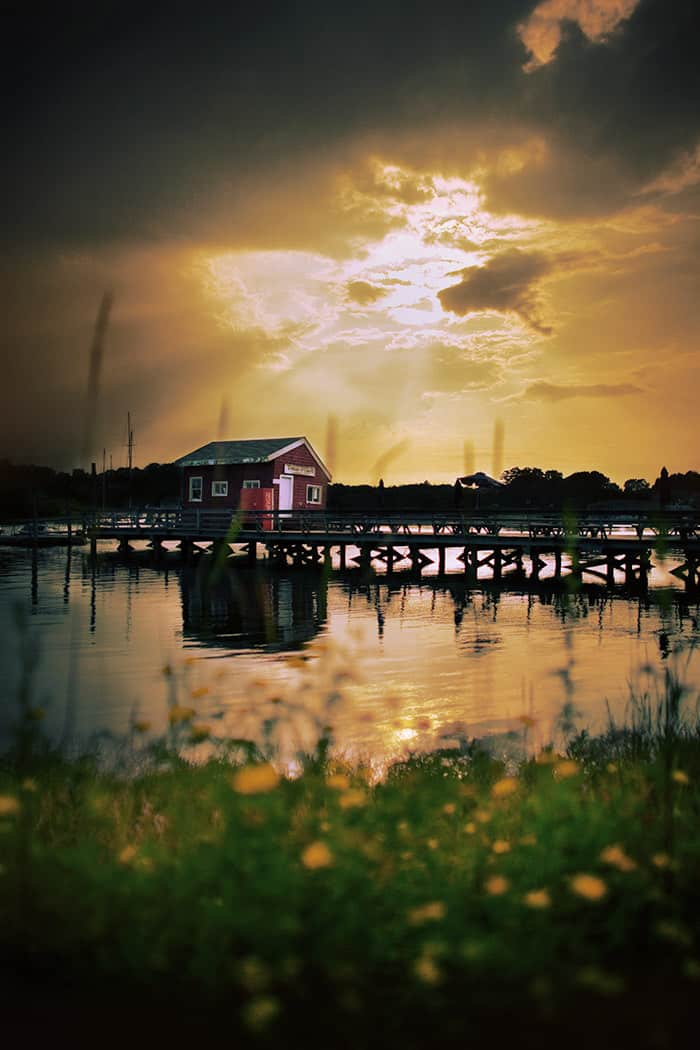 CREATIVE DODGING AND BURNING
Dodging and burning is absolutely the number one technique for enhancing the mood and atmosphere of your photographs, which makes it one of my favorite processing tools. This incredible workflow allows you to control and direct the light, and the amount of creative freedom you have is absolutely phenomenal.
A comprehensive walkthrough of the best dodging and burning techniques in Photoshop, giving you the highest quality result and the most versatility.
Learn how to dodge and burn with both global and targeted adjustments for ultimate creative control…and retain a completely non-destructive workflow!
Master advanced dodging and burning workflows for localized creative tonal work, so you can enhance small details that add to the depth and drama of your image.
Take control of your Blend Modes to instantly improve the quality of your dodging and burning; no more muddy tones or unsightly tonal clipping.
BONUS! Six (6) complete workflow videos that will teach you the following dodging & burning techniques: enhancing texture, directing the eye, adding drama, depth & dimension, and light bleed.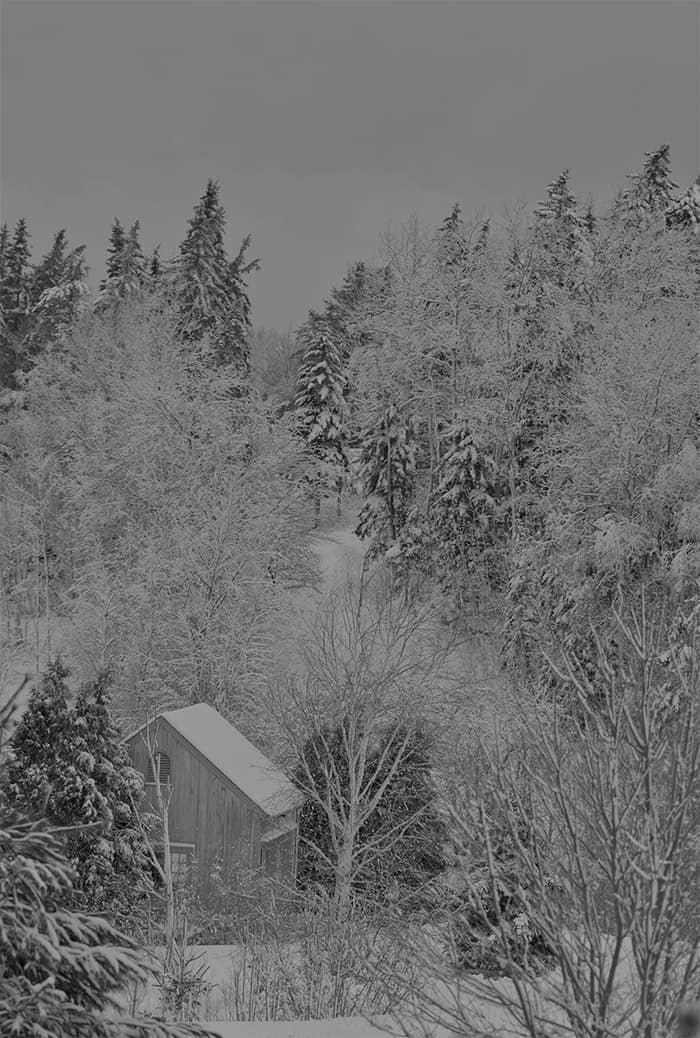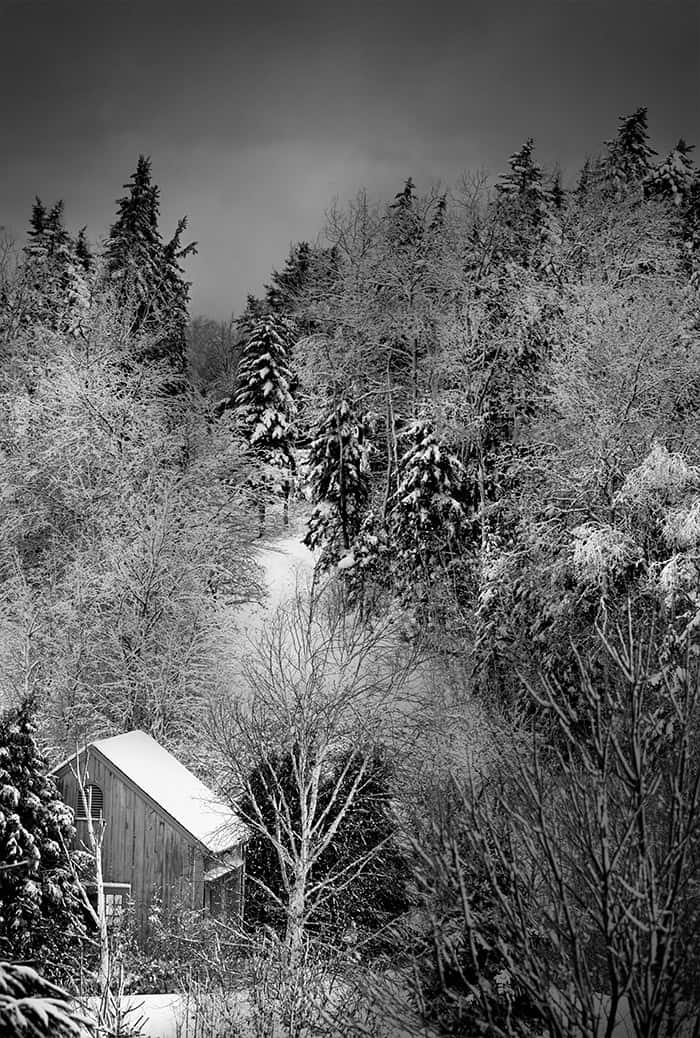 TOTAL LUMINOSITY MASK TRAINING
Learn how to "paint with light" by using luminosity masks to tailor your adjustments. These masks are massively useful for every single tool in Photoshop: sharpening, blending, dodging & burning….you name it, luminosity masks can make it better!
The most comprehensive training in luminosity masks you'll ever find! With 2.5 hours of expert instruction just on luminosity masks, I break down this advanced workflow into simple layman's terms...and reinforced with many examples. Finally l

earn exactly how Photoshop brilliantly creates these tailored and self-feathering masks.

Complete walkthrough of how to create luminosity masks yourself. Gain confidence and add to your expertise by knowing how to create these masks step-by-step without any need for actions or panels.
Learn dozens of ways to incorporate luminosity masks into your workflow and achieve a pro-level quality to your photographs. Every tool and technique in Photoshop can be improved with these masks, and I'll show you how.
Master advanced luminosity selections for complete creative control. Learn how to alter and refine a mask and use them to perform expert masking techniques that professionals use…such as exposure blending, sky replacements, composites, controlled sharpening, and adding contrast without damage.
SPECIAL NOTE: Includes advanced tips and tricks not found in my free mini-courses.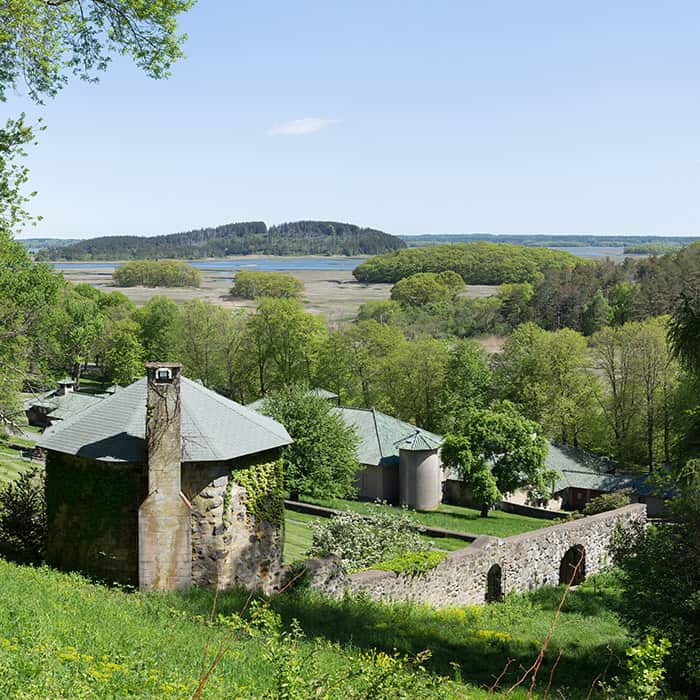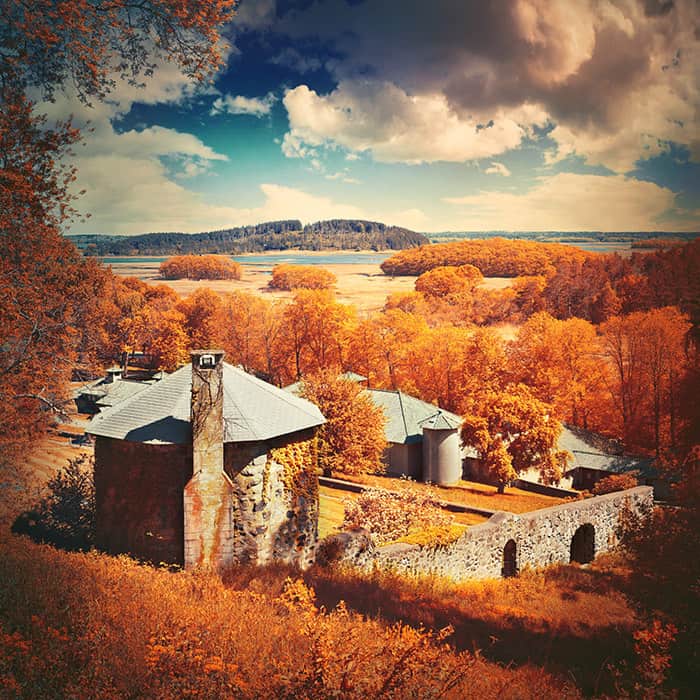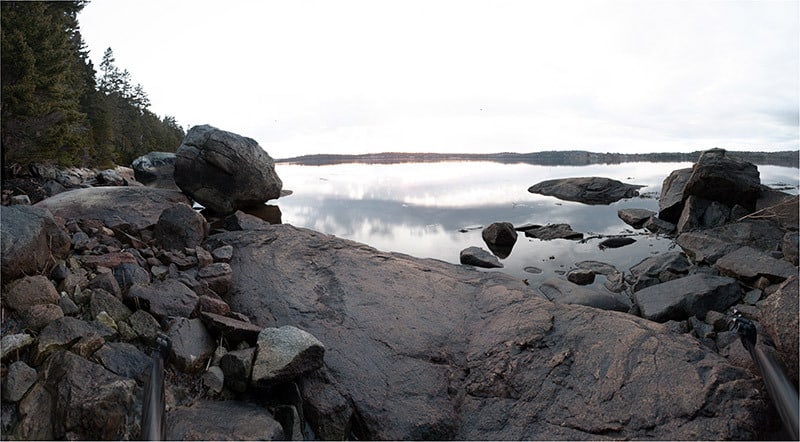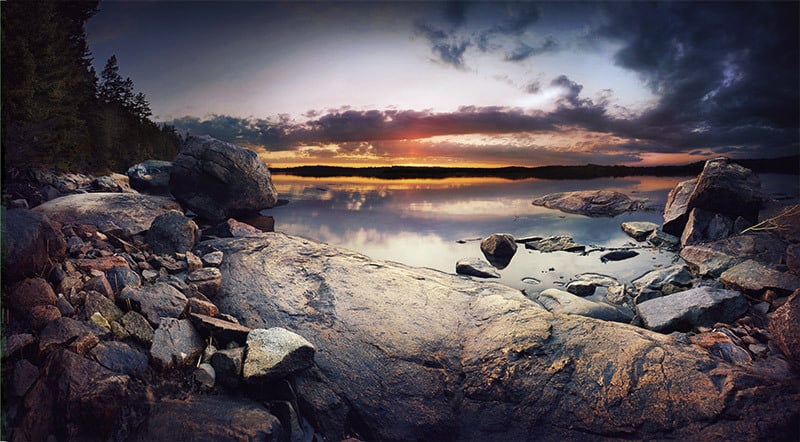 Enhance the mood, light, and texture of your landscapes with the refined tools of Photoshop. Learn how I deepen the meaning behind the frame and create a more intense atmosphere through specialized workflows...designed especially for landscape photography.
The Orton Effect: Amplify your highlights and make them glow to create an ethereal environment.
Briscoe Light: Instantly "paint" highlights that radiate with this cutting-edge technique for a dramatic, yet natural lighting effect.
Atmospheric Perspective: Add depth and dimension with this simple, yet highly effective method for grander landscapes.
Sun Rays and Sun Glows: Create striking sunrises and sunsets by magnifying the intensity of your golden hour light.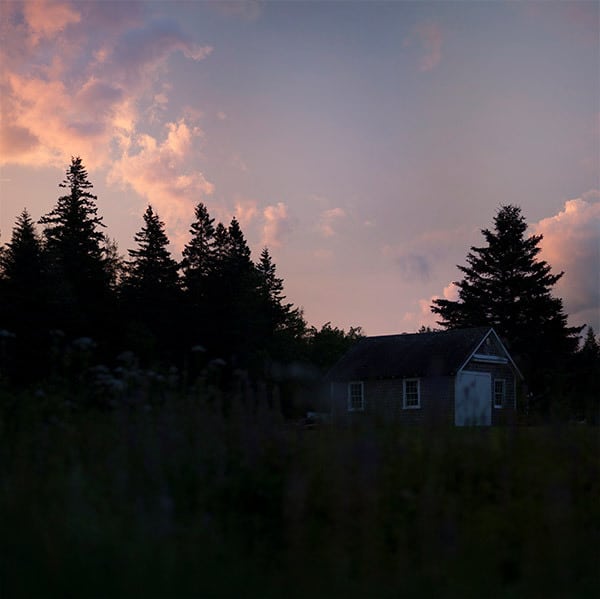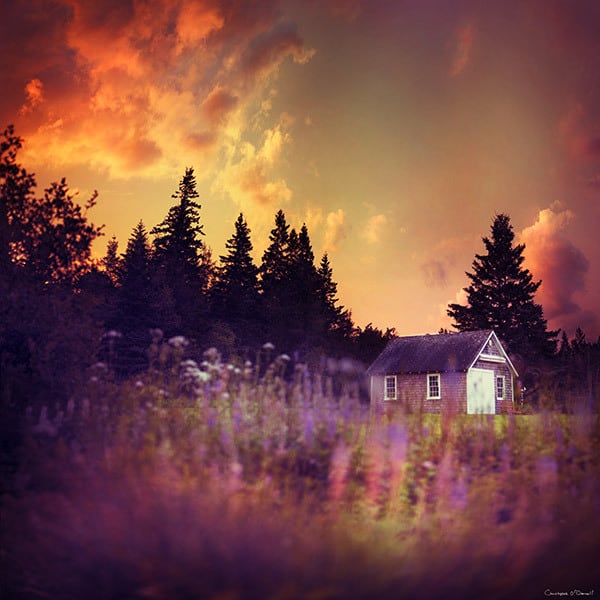 Learn every step of my signature 5-part color grading workflow that has taken me years to develop and refine. This easy-to-follow system can be used for any photograph to create vivid, rich colors that explode with detail and light.
Master the color range tool and adjustment layers to isolate and enhance your colors for precise, clean color grading.
Light Painting: Step-by-step walkthrough of my advanced light painting workflow that enhances the natural light....creating more depth, interest, and texture.
Color Theory with Adobe Color Themes: Learn how to strengthen your color harmony with this innovative panel for more intense, brilliant hues.
Luminosity Masks are most powerful with color grading. I'll walk you through my simple and advanced techniques for enhancing depth, enriching colors, and fine-tuning your adjustments for wall-worthy landscapes.
BONUS! Processing in Photoshop is also about what you don't see. Learn how I skillfully remove typical annoyances in landscape photography...such as white fringing, lens flares, and distracting color banding.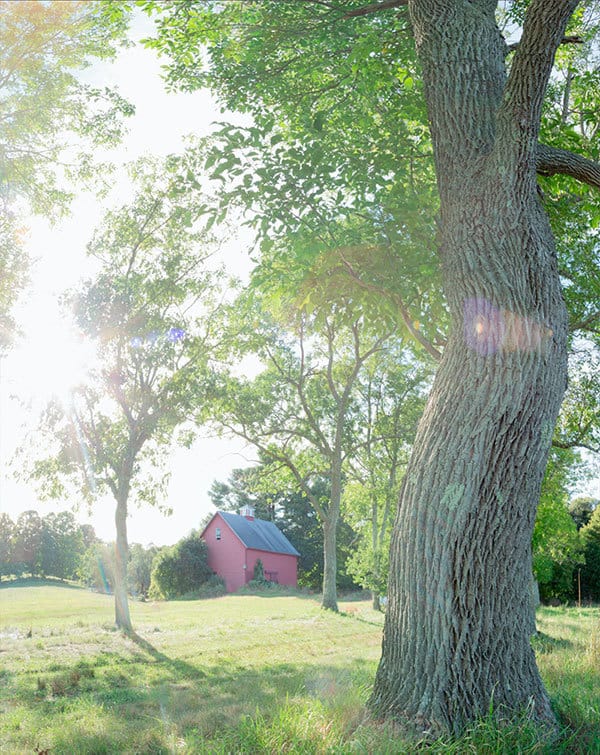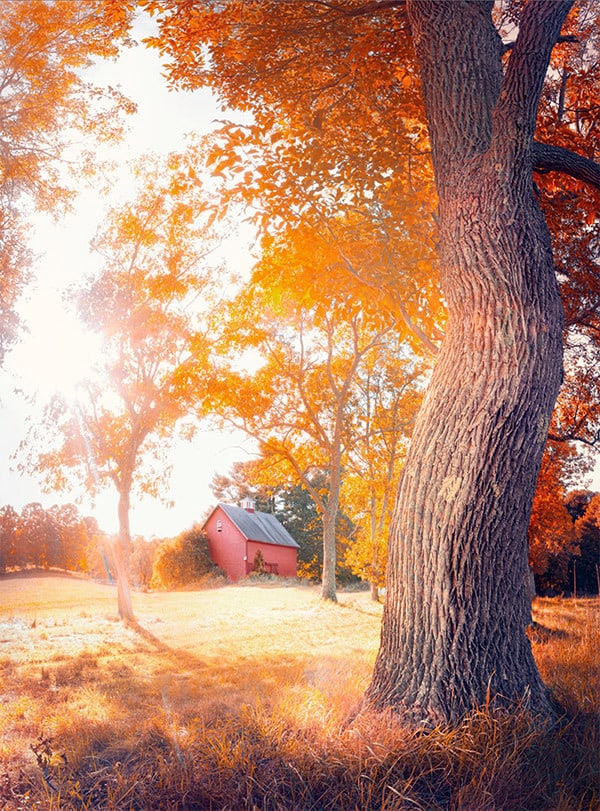 BALANCING PERSPECTIVE & COMPOSITION
A strong composition is critical in landscape photography...because no amount of color and tonal work can improve a weak frame. Learn how the experts shape their frames to strengthen the flow and balance.
Transform and Warp: Master the advanced tools of Photoshop by molding your composition to create a harmonious scene.
Advanced Focal Blending: Reverse the distortion of wide-angle lenses in your panoramas by blending different focal lengths together.
Puppet Warp: Learn how this simple tool can yield incredible results by gently repositioning your focal points  - 100% non-destructively.
Clone Stamping: Full walkthrough of this powerhouse tool. Expertly remove distractions and move your focal points at the highest quality.
Patch Tool, Healing Brush, and Content-Aware Move: This trio will equip you to handle any situation. Take advantage of this powerhouse team of tools and tap into the advanced "brain" of Photoshop for expert pixel-based alterations.
Smart Objects and the non-destructive workflow: Learn how I use smart objects to make pixel-based changes (such as cloning and warping) that are instantly reversible!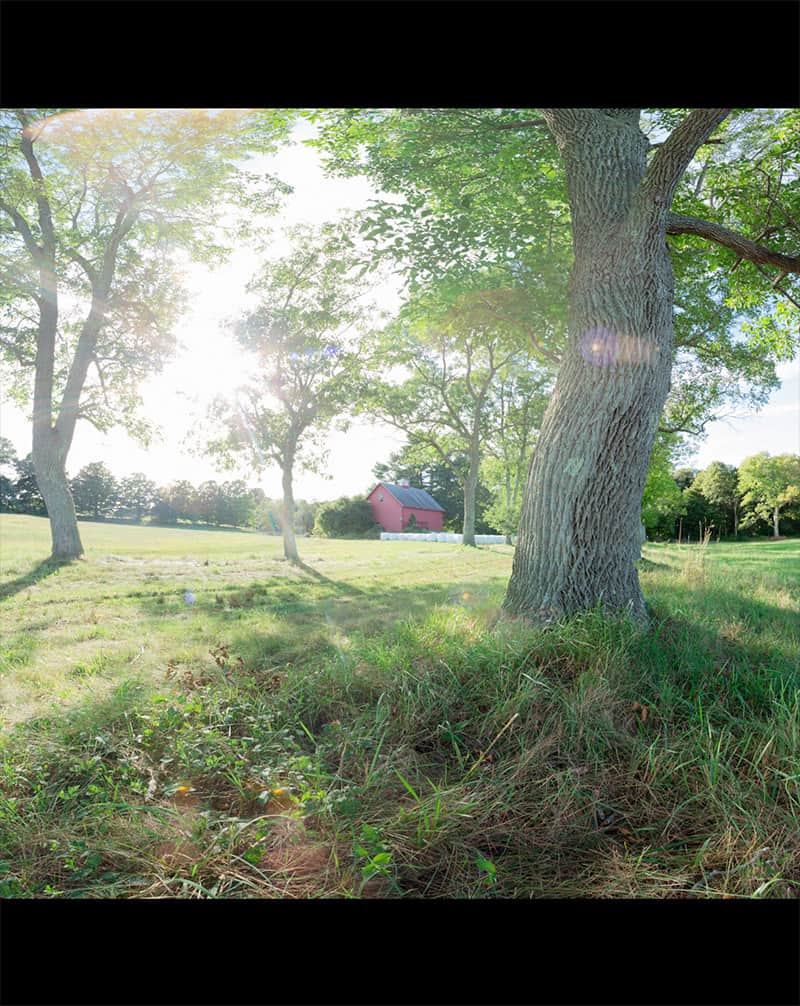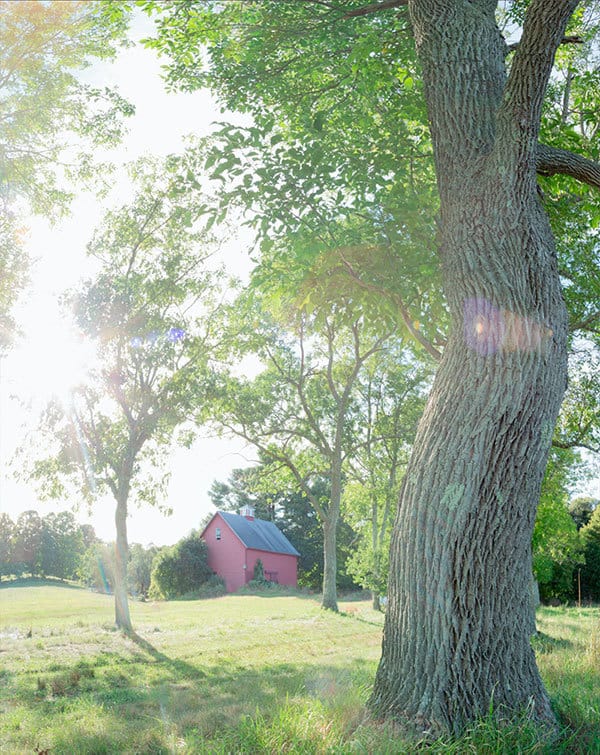 What Current creativeRAW Members Have to Say...
Here's What You'll Receive When You Enroll in the LIFETIME MEMBERSHIP PROGRAM:
HD DOWNLOADS AND STREAMING

EXPERT CREATIVE PROCESSING

Expand and enhance your processing vision: learn specialized creative techniques and bring out the hidden beauty of your landscape images.
PRIORITY EMAIL MENTORSHIP

SEGMENTED LESSONS

This program is divided up into easy-to-follow, targeted videos that allow you to quickly and easily navigate to the lessons that you want to learn through an innovative menu system.

ANY SKILL LEVEL

Lessons are designed to blend the simplicity of Lightroom with the refined, specialized techniques of Photoshop – perfect for total beginners to seasoned pros looking for new creative ideas.
ALSO GET THESE MASSIVE BONUSES WHEN YOU ENROLL…
Your Lightroom and Photoshop learning will not stop at the last lesson!
I've included some handy bonuses with your enrollment to help further your creative development for YEARS to come.
BONUS #1: NINETEEN (19) COMPLETE WORKFLOW VIDEOS
As an added bonus I also include NINETEEN complete workflow videos (with practice files) which are incredibly helpful. Watch me edit and process images from start to finish as I walk you through every step of my processing workflow.
I really think you're going to enjoy these workflow videos because they are extremely important to your complete learning experience.
It's a lot like fitting pieces of a puzzle together: the course lessons provide you with the tools and the techniques, but the workflow videos are the blueprints that tell you which piece goes where...or rather where and when you should perform a particular technique to your photograph.
The best part about these workflows is that they use no presets – meaning you will actually learn step-by-step how to process intense, breathtaking landscapes instead of relying on automation.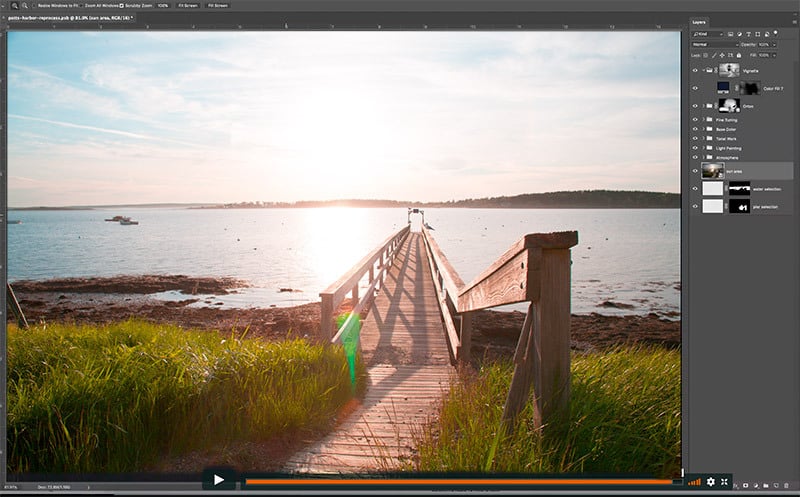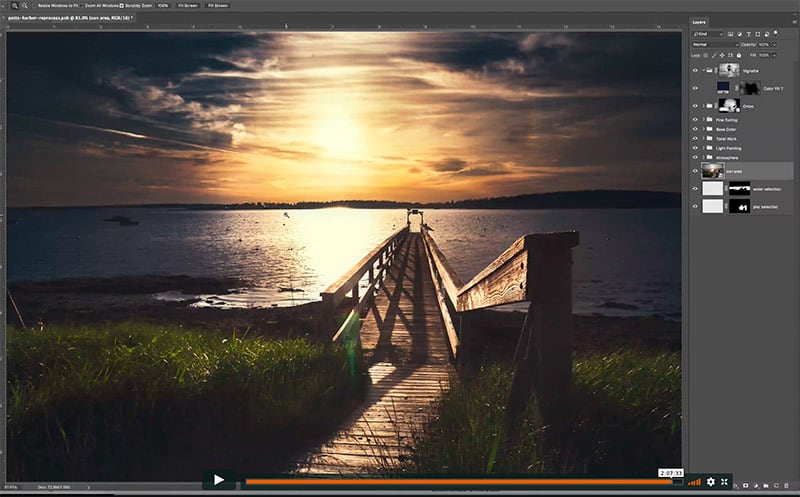 BONUS #2: LIFETIME EMAIL MENTORING
Expert advice will always be just an email away!
Enrolling in the creativeRAW Lifetime Membership program means that you can count on hands-on support throughout your entire learning experience, and long after you've completed the lessons.
One of the biggest challenges I've heard from other photographers is that when they take a workshop or purchase a course, personal feedback and one-on-one attention is rare – if you don't get the info on the first try, you're left in the dark…
The creativeRAW Lifetime Membership program is specifically designed to make it quick and easy to contact me as you move through the lessons. 
Get instant feedback with unlimited email mentorship.
No pre-recorded webinars, no monthly group calls, and no limits whatsoever. It's 100% undivided attention to YOUR personal questions as I handhold you down the path towards Lightroom and Photoshop mastery.
This bonus is EXTREMELY valuable as you'll have direct and unlimited access to expert guidance, whenever you need it….and will keep you on the narrow road towards success in the digital darkroom.
Also, this bonus will NEVER expire...so you're investing in a lifetime of Lightroom + Photoshop support.
BONUS #3: LIFETIME ENROLLMENT
You NEVER have to buy another course or pay a recurring fee, ever.
When you sign up for the creativeRAW Lifetime Membership program, you'll be auto-enrolled into ALL future updates –absolutely free.
This means that your one-on-one support and expert education doesn't dry up when you've made it through all of the lessons (which should keep you happy and creative for quite a while).
Since I'm constantly updating the program with new and creative lessons for both Lightroom and Photoshop, your creativeRAW Lifetime membership is an INVESTMENT that keeps improving over time!
Each of the 18 modules you will get TODAY are a course in themselves, with much more learning in the pipeline for 2018 and beyond.
It's all the perks and benefits of a membership site, but without the monthly fee!
Why should you keep paying in order to learn new tools and techniques? With lifetime updates and an endless amount of creative learning, you can always stay current on the latest Lightroom and Photoshop features without ever having to purchase a course again.
No gimmicks, and no hidden fees. Just pay the enrollment fee once and you are all set to receive years of Lightroom & Photoshop learning at no additional cost.
I'm proud to say that NO other course out there offers TRUE lifetime enrollment like this.
And it's all ready and waiting for you.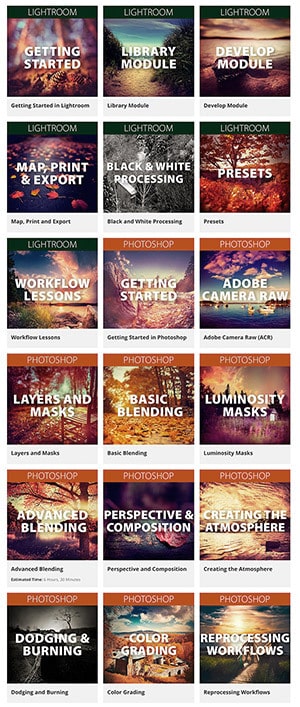 The creativeRAW Lifetime Membership Program is Perfect for you if:
You are passionate about your photography and mastering the digital darkroom, and you're willing to put in the work to make that happen.

Are feeling stuck, overwhelmed with conflicting information and unable to take your next step….and searching for a reliable and consistent program to guide you through the murky waters of Lightroom and Photoshop.

Are done making excuses about why you can't wrap your head around the digital darkroom, and are ready to finally have fun and truly enjoy the creative process.

Want a clear, step-by-step blueprint of my workflow with hand-holding guidance instead of theoretical content that you have no idea how to apply.

Want true one-on-one support from a landscape photography expert and connect with a passionate group of like-minded peers.

Are ready to leap over the technical hurdles that have been holding you back from truly learning Lightroom and Photoshop.

Are willing to step outside of your comfort zone, experiment with the best creative tools, and master the most advanced processing techniques specifically for landscape photography.
This massive program has a combined value of OVER $2,000…
but you won't be paying anywhere near that amount.
Choose Your Payment Option Below and Get Started Today
Do You Have Any Questions? Need Help?
Write me directly at chris@creativeraw.com
What Current creativeRAW Members Have to Say...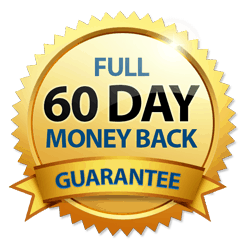 You're Fully Covered With a
60-Day Money Back Guarantee
The creativeRAW Lifetime Membership program walks you through the exact workflow that I use for my own photographs. I have gone through years of trial-and-error to refine and enhance this system that creates intense, dramatic landscape photographs using innovative, yet simple Lightroom and Photoshop techniques. I am absolutely confident that you will find the same results I did and will see a dramatic improvement in your landscape images.
If you feel like you haven't got 10X the value of this course, I will promptly refund your money within 60 days of purchase. Absolutely no questions asked, and no hard feelings.
I'm happy to offer this guarantee because I am certain you will love this program. If you think there's even a slight chance that this course will enhance your landscape photography, you should enroll today as there is absolutely NO RISK in doing so.
READY TO BECOME A LIFETIME MEMBER?
Do You Have Any Questions? Need Help?
Write me directly at chris@creativeraw.com
Frequently Asked Questions
There are dozens of courses out there which teach snippets of Photoshop that leave you with more questions than answers, or a handful of Lightroom "hacks" that only work for 5 minutes, and never look the same from photo to photo.
The creativeRAW Lifetime Membership program is a complete, A-Z learning system that I have developed and refined over the past 10 years…and is the exact formula that I personally use on every single image I produce. It's also the only program that offers expert training coupled with in-depth personal support. This combination is absolutely key to helping you create the images you've always wanted to create!
As soon as you complete your purchase, you'll be granted instant access (via username and password emailed to you) to all of the course material: 45+ hours of detailed, step-by-step instructional videos (HD-quality) segmented into 200+ video lessons, eighteen bonus workflow videos, and all unique practice files to follow along with each video.
Complete handholding from start to finish, with additional goodies like cheatsheets and PDF guides to help you through the more advanced lessons.
That's the best part: immediately! No need to wait for multiple gigabytes to download as you sift through folders of lessons. The entire program is loaded and ready to go as soon as you hit purchase, and each lesson is laid out in chapters (called modules) so you can easily navigate to the exact topic you want to learn – instantly!
Of course, you can also download every lesson for offline viewing – it's entirely up to you. There is no expiration on enrollment, so you can log in at any time to watch and/or download the lessons – fast and simple!
The Lightroom for Landscapes system is designed to work best with Lightroom 5 and 6 standalone, and Lightroom Classic (formerly known as Lightroom CC). You can use this course for earlier versions of Lightroom, but keep in mind that some lessons will not apply. The Photoshop for Landscapes system uses the latest CC release of Photoshop, but can be used as far back as CS5, with the exception of a few non-essential tools.
The creativeRAW Lifetime Membership program details the exact workflow that I use for my own photographs. I have spent years of trial-and-error refining and enhancing this system; I am absolutely confident that you will find the same results I did and will see a dramatic improvement in your Lightroom & Photoshop experience.
If for any reason you decide that this program is not right for you, just let me know within 60 days of purchase and I will gladly refund your money. Absolutely no questions asked, and NO FINE PRINT.
I'm happy to absorb all of the risks and offer this guarantee because I am certain you will love this program, but I understand it may not be for everyone – so there is NO RISK to try it out!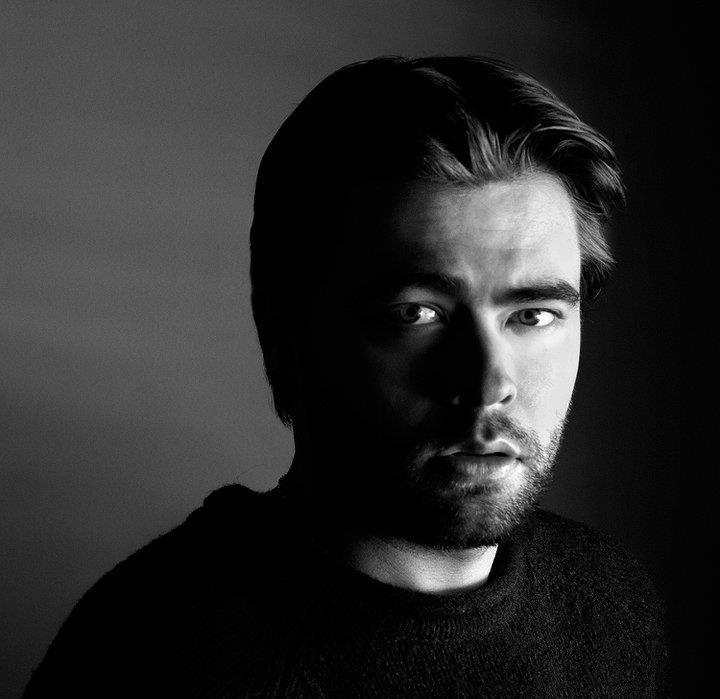 My name is Chris O'Donnell, landscape photographer and online educator, and I've been using Lightroom and Photoshop to process my photos for quite a few years now (PS since 2006, and LR came along a few years later). 
I don't create courses that tell you what you "should" or "should not" do. Instead, I pull the curtain back on my creative techniques and workflows, revealing my own perspective and experiences after 10+ years immersed in landscape photography – and leave it up to you on how this new knowledge should be used for enhancing YOUR Lightroom & Photoshop workflow.
The goal of my courses is to get your creative gears grinding and provide you with the tools and knowledge to develop your own techniques – both in the digital darkroom and the field. Not only is this more satisfying creatively, but sets you up for future success by relying on your own skills as a photographer. 
ALL YOU NEED TO DO IS CHOOSE A PAYMENT OPTION BELOW AND ACTIVATE YOUR MEMBERSHIP!
Do You Have Any Questions? Need Help?
Write me directly at chris@creativeraw.com