FRIENDLY REMINDER: Your chance to stock up on premium education from the top photography instructors at a HUGE 96% discount is ending soon….

If you want to grab the bundle, now is the time to do it….Wednesday will be here before you know it and every year I get emails from those who missed their opportunity to grab some of the best training for only pennies on the dollar. Don't be that person 🙂
Check out the 5DayDeal Photography Bundle before it's gone!
Now for those of you who have purchased the 5DayDeal in the past: You already know what a fantastic value this bundle is and would probably prefer if I just cut to the chase….so click the button above to find out what's in the 2017 bundle.
Now if you're not familiar with the 5DayDeal….read on, because you definitely do not want to miss this opportunity to grab the best in photography education before it expires on Wednesday, October 18th!
Seriously, I get dozens of emails of regret each year from photographers who missed out on the 5DayDeal, so do yourself a favor and take a few minutes to find out what's in the bundle.
What do you get when you combine more than $2,700 worth of top-notch photography education at a savings of over 96%?
If you're anything like me, you want to do some thorough research before making any kind of purchase….especially one that is offering such an incredible deal on expert learning from the world's top photographers.
So allow me to save you some time and explain exactly what's included in the bundle….because once you hear what we have in store for you, it's easy to see why the annual 5DayDeal is the best deal in photography education….and why it's the only sale I fully support year after year.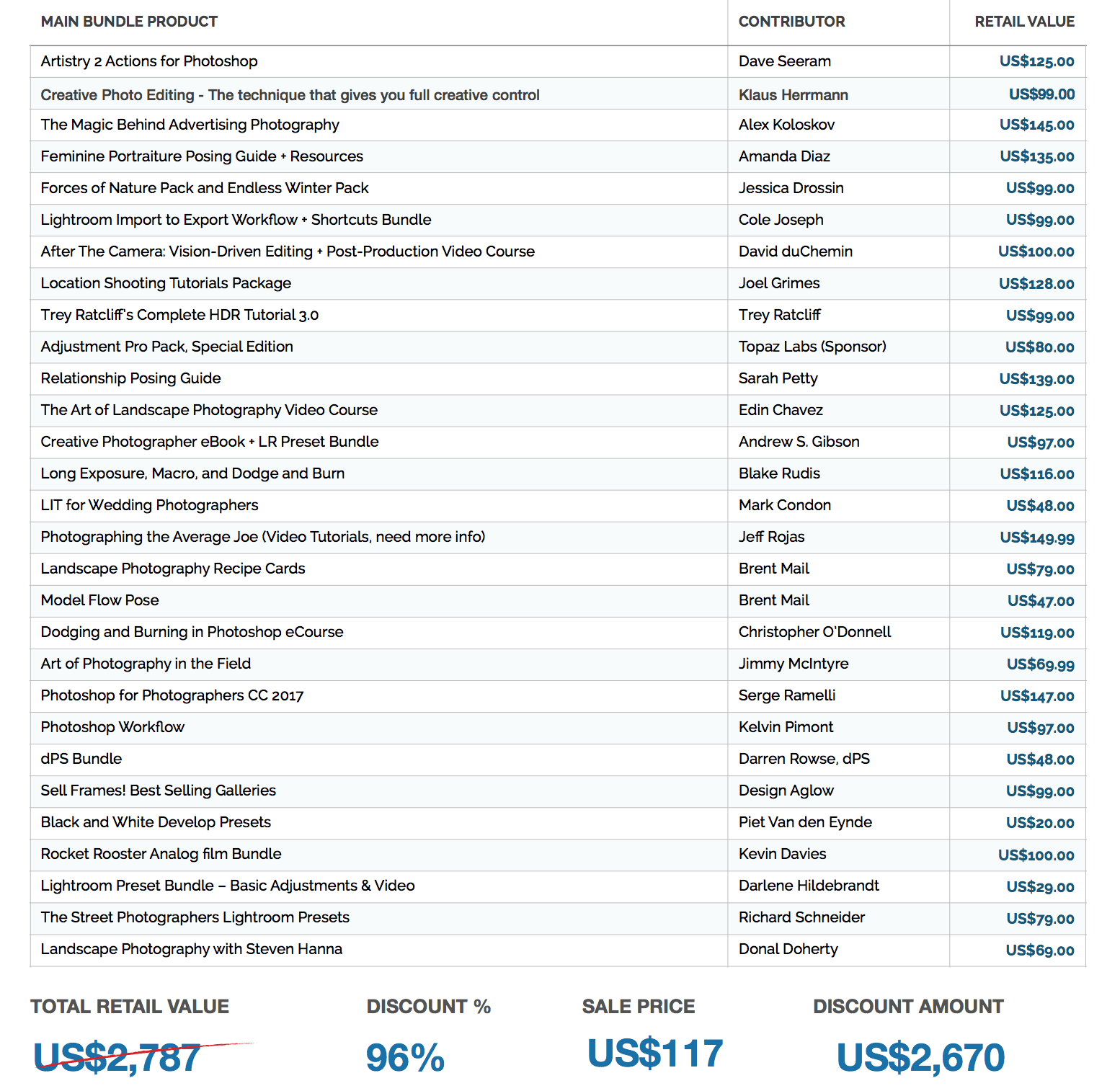 1. THE 2017 5DAYDEAL BUNDLE IS A GOLD MINE FOR LANDSCAPE PHOTOGRAPHERS
I'm always on the lookout for the best education from top landscape photographers…because that is key to enhancing your craft and enjoying your photography. I think everyone can agree here that it's PROPER education – and not expensive gear – that gets you on the fast track to creating the images you want.
Good news: The complete photography bundle from the 5DayDeal has some of the BEST landscape photography education I've seen in a long time.
Past bundles have been a healthy mix of all genres to appeal to any photographer…everything from studio lighting, wedding techniques, real estate photography, and more. Although past bundles were still fantastic for landscape photographers since only a few items made the bundle worth the purchase….this year is a different story.
Landscape and nature seem to be the theme for the 2017 bundle as there is an overwhelming amount of exceptional learning curated just towards landscape photography.
Here are a few of my favorite picks…
I don't typically call out courses as being a favorite among others, but I am today. Steven has put together one of the best programs I've seen on field techniques for landscape photography…just overflowing with professional advice that will absolutely change the way you approach your next landscape.
Your success in the digital darkroom is entirely dependent on the quality of your raw files captured in the field…there's no doubt about that. If you put junk into Photoshop, you're going to get junk coming out.
This is why I am thrilled with Steven's course here…he's obviously put in a lot of work to provide high-quality, expert information that covers every aspect of his camera field work.
From a thoughtful "What's in my bag?" walkthrough to masterful tips on composition…his friendly, conversational approach makes learning fun as he explains his techniques in great detail, going well beyond the boring textbook definitions that everyone already knows.
The best part I found about this series is that his location videos are not scripted. This is extremely helpful for teaching landscape photography since we often need to amend our workflow in the field to compensate for unexpected changes. Steven expertly addresses challenges as they come up in the field, which is such a refreshing approach.
He also put a unique twist on this series which I think is absolutely brilliant…Steven brings you to some of the most beautiful locations in Ireland for his field videos with an actual student. You watch him offer real-time advice and suggestions based on the missteps of the student, which I find much more successful in teaching than simply talking directly to the camera.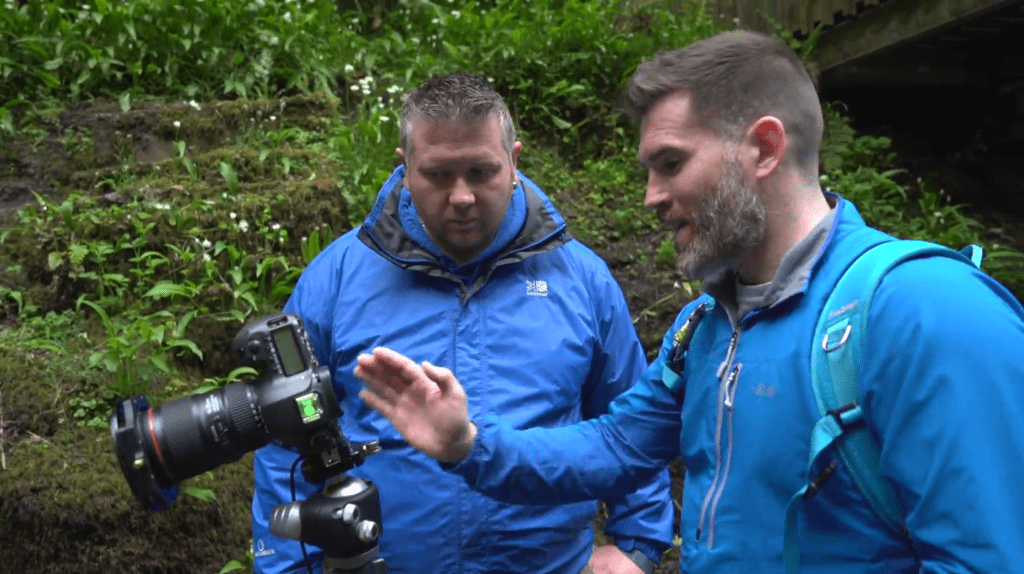 Steven does not present you with a barrage of information, but rather a well-planned curriculum that tackles the most challenging aspect of landscape photography.
This course is absolutely worth the price of the bundle alone as the sheer amount of valuable information will advance your skills by leaps and bounds. Beautifully done!
Nothing interests me more than learning about other photographers personal workflows. It's that one-of-a-kind knowledge that you simply can not buy elsewhere….and seeing how others approach a photograph inspires me to travel down a creative path I might otherwise not have discovered.
If you're a landscape photographer, then you've most likely heard of David…. a highly accomplished photographer and educator who needs no introduction. David has long set the bar for quality education, and his 20-part After the Camera course is no exception.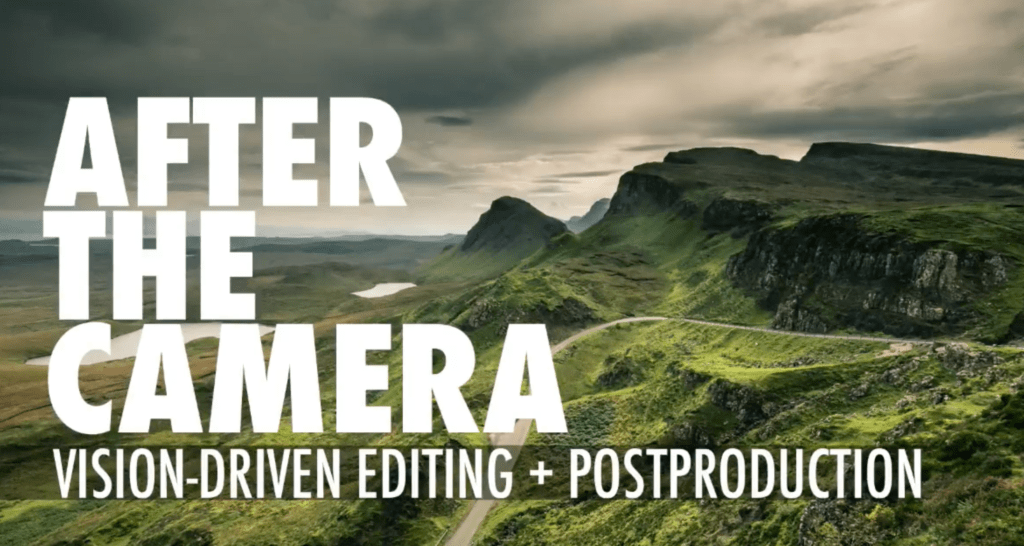 Join David on a 20-episode video discussion about importing, editing, and developing your photographs in Lightroom. There are over 4 hours of thought-provoking conversation that unveils the thought process behind some of his most rewarding photographs….and in doing so, David shows you a simplified approach to making images that are more beautiful, more powerful, and more aligned with your vision.
This course from David is one of my favorites because, in typical David fashion, it is absolutely packed with expert tips and tricks that photographers of any level will find rewarding.  I actually picked up a few ingenious tips that I'll be implementing soon into my own workflow.
The quality of the course is what you've come to expect from David. Enjoy an easy to follow, approachable presentation as if you would peeking over the shoulder of a friend….yet professionally structured and well-paced, with much thought put into your journey through the course that grabs your attention from start to finish.
David's got a knack for finding that perfect balance between professionalism and creating an engaging atmosphere. Watching his program really felt like I was working with him one-on-one during a private lesson…from the comfort of my own living room, and around my own schedule. The best of both worlds!
Fantastic work from David as always, and is a favorite of mine in the 5DayDeal Complete Photography Bundle.
Another familiar name in the landscape photography world…Jimmy has generously donated his brand-new landscape photography course that serves as a top-notch example of what expert teaching looks like.
What I like about Jimmy is that his videos are not only professionally done, but much like David and Steven….his presentation and pacing makes it a pleasure to watch.
Many have called him the Bob Ross of landscape photography, and I have to agree….he keeps you engaged but not bored, and is a refreshing breath of air from the fast-paced, hyper tutorials that scream information at you.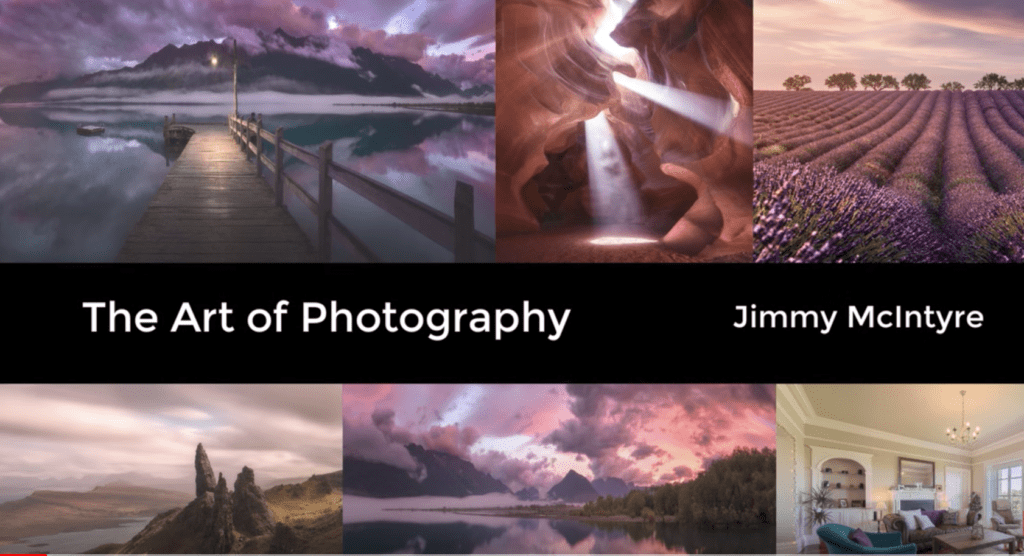 Some tutorials will give you important bits and pieces, but there are very few high-quality courses out there that walk you through every step of the way…from the initial planning to the final processed image.
With 22 well-constructed lessons, Jimmy gives you the full scope of his landscape photography….from the scouting and planning stage, execution in the field, and finally his entire processing workflow in Photoshop. This is a true "start to finish" course that leaves no stone unturned.
One of my favorite lessons of Jimmy's is on shooting the Milky Way. I know many of you landscape photographers struggle with night photography….and Jimmy tackles this daunting subject flawlessly.
He first shows you how to properly plan a Milky Way shoot so that the stars appear just where you expect them to, allowing you to plan out your composition during the daylight hours.
Jimmy then takes you out into the field with him as he sets up his gear to capture the Milky Way, explaining every step along the way….and then brings it all together in Photoshop where he expertly processes the raw files to express his creative vision.
This is one of the best Milky Way tutorials I've seen, hands down…and well worth the price of the bundle alone as the return value on this knowledge equals a portfolio filled with beautiful night sky photographs.
However, this is the 5DayDeal…..where you get a ridiculous amount of expert learning for an "almost giving it away" price. In addition to this Milky Way tutorial, you'll also receive an additional 20 lessons from Jimmy alone….not to mention the dozens of courses, eBooks, and other tools directly covering landscape photography.
These programs give you the sense of attending a private workshop that you would otherwise spend several thousand dollars on….but with the added bonus of watching it from the comfort of your living room, and around your own schedule.
Chris, what do you have in the 5DayDeal Bundle this year?
I hope you didn't forget about me! 🙂
I'm always excited when the 5DayDeal rolls around since I can:
Contribute some of my best tutorials for a charitable cause,
Make photography a bit more fun for you, and
Save you a ton of money by only paying pennies on the dollar for high-quality learning.
Dodging and burning is absolutely the number one technique for enhancing the mood and atmosphere of your photographs…which makes it one of my favorite processing tools. This incredible technology allows you to control and direct the light, and the amount of creative freedom you have is absolutely phenomenal.
So for this year, I'm contributing my Creative Dodging & Burning in Photoshop video course to the 5DayDeal: a comprehensive training program that teaches you my entire dodging and burning workflow for a more impactful image that expresses tour creative vision.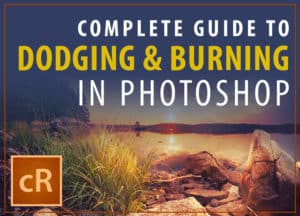 With 14 comprehensive lessons, I give you a start-to-finish walkthrough of my best dodging and burning techniques in Photoshop….giving you the highest quality results and the most versatility.
Learn how to dodge and burn with both global and targeted adjustments for ultimate creative control…and retain a completely non-destructive workflow!
Master advanced dodging and burning workflows for localized creative tonal work, so you can enhance small details that add to the depth and drama of your image.
Bonus! Six (6) complete workflow videos that will teach you the following dodging & burning techniques: enhancing texture, directing the eye, adding drama, depth & dimension, and light bleed.
Includes 18 videos in .mp4 format for just over four hours of instructions. Caption files are provided as well as 9 practice files in DNG format.
And don't forget about my special bundle bonuses….
I'm offering more than my Creative Dodging and Burning in Photoshop course though in this year's 5DayDeal!
Keep reading…I think you'll be pleasantly surprised with the two additional bonuses I have in store for you 🙂
SPECIAL BONUS #1: Golden Hours: A Guide to Photographing the Light of Sunrises and Sunsets
As special thanks for supporting the 5DayDeal and purchasing your bundle through creativeRAW by using this special link, I'm also including a FREE copy of my most popular guide on photographing the golden hours!
With this 177 page step-by-step eBook, I'll guide you through my entire field workflow for capturing this incredibly beautiful, yet challenging light.
Many photographers will often note that their sunrise and sunset images rarely represent the scene they observed. By detailing the steps I go through to create my images – both in the field and in the digital darkroom – I explain why this is so, and more importantly, how to transcend the disparity between your view and your results, allowing you to create extraordinary images of this beautiful light.
You will learn dozens of my creative camera techniques and be inspired to produce your own extraordinary, wall-worthy golden hour landscapes.
Also included is a portfolio study of 29 of my most popular golden hour images, detailing my entire in-the-field workflow to capture the scene (including EXIF data).
SPECIAL BONUS #2: DOUBLE THE COURSES!
If you purchase the 5DayDeal bundle directly through me, I'm going to double the courses that I have in the bundle so you can pass along a special gift to a photography friend of yours!
That means you'll receive not one, but TWO copies of my Creative Dodging and Burning in Photoshop course.
This makes a perfect gift for another photographer in your life, and you don't have to spend any time shipping or wrapping it 🙂
This is my special way to say "thanks" for supporting the 5DayDeal and helping us reach our $200,000 charity goal.
Remember: the double course bonus is exclusive to those who purchase through me! Just click on any of the links in this post when you grab your bundle (like this one right here) and I'll make sure you get your bonus course 🙂
Another key takeaway point of 5DayDeal Complete Photography Bundle is that you simply will not find such a steep discount (96%!) on the world's best photography education.
Since there are over 30 photographers contributing their best learning material into one massive bundle, the 5DayDeal is able to negotiate the biggest discount you will ever see on these products.
This is THE best deal in photography education for the year…and is why the 5DayDeal bundle is the only sale I bring to you.
In some cases, the price of the entire bundle is actually lower than a single product!
So if only a couple of products interest you…you're still getting an unbelievable deal.
However, since this 5DayDeal bundle is overflowing with landscape photography education, I think you'll be interested in a lot more than just a few items 🙂
There's a HUGE opportunity here for us to literally change lives. We made an enormous impact through charity contributions, and we can do it again this year – but only with your support!
In October of 2014, the 5DayDeal bundle sale exploded into a phenomenon that we never expected with over 20,000 bundles sold. Since the 5DayDeal donates 10% of revenue directly to four amazing charities, we were able to raise a grand total of over $200,000 to donate in just 5 days!
And in 2015, we were able to do it again….
and again last year….
…for a total of over $1,100,000 donated to date!
In other words: not only were we able to almost GIVE away top-notch photography training from the industry's most respected educators…but thanks to you we were able to make a HUGE impact on the charities we donated to – enough to literally change lives. I'm really proud of that, and you should be too!
This year, our goal is to once more raise $200,000 for charity – and I think we'll be able to do this again 🙂
Click here to learn more about the four amazing charities we're donating to this year.
The hardest part about enhancing your craft is knowing what to do next….but when you have a set of expert instructions that inspire you to try new techniques, it's ridiculously easy to keep the excitement of photography alive.
I've seen so many beginners and seasoned pros alike become paralyzed with the "not knowing" part….dissapointment with their stagnant images leads to frustration, and they ultimately become disenchanted with something that used to bring them so much joy.
Being open to learning new skills and always enhancing your craft is the key to long-term fulfillment in your photography….
And the 5DayDeal Complete Photography Bundle will give you a year's worth of inspiration, expert training, and innovative tools to help you get there.
Here's the short and simple….this is the real deal folks. There's no catch, no trials, and certainly no tricks. Just an incredible discount on quality education…and the chance to raise a large amount of money for charity.
Actually, there is one catch… this bundle is only for five days, and then it's gone forever….
So make sure to grab your bundle before this Wednesday, October 18th!